The best way to prevent wrinkles, dark spots, and other aging of the skin? Wear a sunscreen each and everyday. It's the one thing that all dermatologists and doctors agree on, and the only way to really prevent any damage from occurring.
When you're looking for a good sunscreen, buy one that you can easily afford because if you feel like you've spent too much on it, you won't want to use it often and liberally.  Also get one that you like the feel and scent of.  That way, you won't mind reapplying when you're in the sun for a prolonged period of time.
We wear a sunscreen daily, mostly under our makeup, and even when the foundation has an SPF. Here are the ones that we've tried.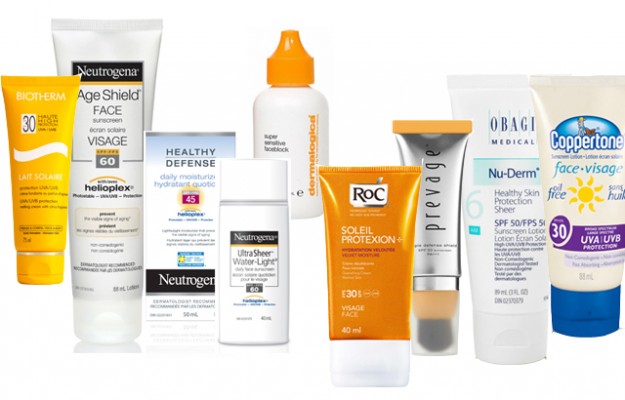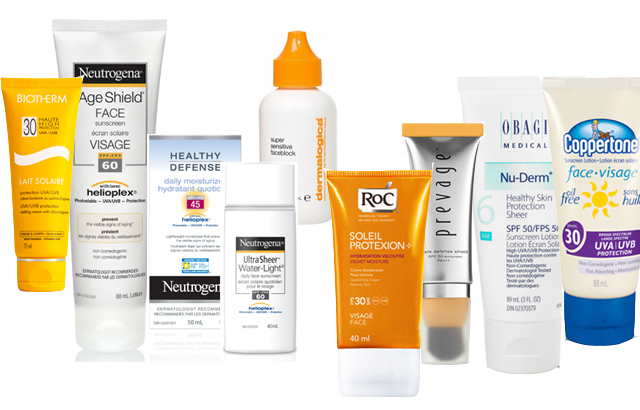 1. Biotherm Lait Solaire SPF 30 Melting Milk for Face and Body. So besides application feel, the one thing that totally ruins a sunscreen is when it leaves a whitish cast on your skin.  Even if you're quite fair and don't mind the light-looking tint, it looks mask-like in photos, which makes this sunscreen a no-go for the face or the body.  It does indeed have a "melting" soft cream texture that makes it easy to apply, and a light citrus fragrance, but it's not one that I would use. At $25 it's not worth getting something you're not going to enjoy using.
2.
Neutrogena Age Shield Face Sunscreen SPF 60.
  The Age Shield Sunscreen is brand new from Neutrogena and comes in an SPF 60 or SPF 110 formulation.  The sunscreen is nono-greasy, and hydrating to the skin.  It feels light-weight and is non-comedogenic making it perfect for the face – almost.  It applies and feels more like a moisturizer, but it requires a great deal of rubbing in to get rid of any whitish residue.  Even when massaged into the skin, even a little bit of over-application resulted in whitish patches clumping together.  Overall, if you don't mind rubbing the sunscreen into the skin this might be one for you, especially since it comes in such a high SPF.  I, however, prefer more low-maintenance products and so I'm going to pass on this one, even though it's very reasonably priced at about $15 at drugstores.
3.
Neutrogena Healthy Defense SPF 45 Daily Moisturizer with Helioplex.  
If you want a Neutrogena sunscreen for your face, don't look in the sunscreen aisle.  Neutrogena's Healthy Defense moisturizer offers a sunscreen and you'll find it in the skincare section of your local drugstore.  Amazingly, this one beats Age Shield, and most of the other sunscreens that I tried, and I love using it on a daily basis.  This sunscreen is super moisturizing, but also offers a high level of sun protection.  I found it to be slightly greasy and I had to powder my face after applying makeup, but even that didn't turn me off from this sunscreen.  I love that it has no whitish tint to it at all, and just disappears into skin.  Although the sunscreen is greasy to begin with, it easily absorbs into skin.  My combination skin didn't have a problem with it, but those with dry skin may find that it's not quite moisturizing enough.  I used it primarily for sun protection though, and found it to be one of the best.  At $20 from the drugstore, it's also one that won't break the bank.
4.
Neutrogena Ultra Sheer Water-Light Daily Face Sunscreen SPF 60.
 This is probably the best sunscreen from Neutrogena, and a great choice if what you hate about sunscreen is that it's thick and often greasy.  It is suitable for every skin type because it doesn't have a greasy texture, and it doesn't have any whitish cast at all!  The sunscreen has an extremely watery and light feel that makes it melt into skin and have an almost-matte finish. It's perfect under makeup, on its own, and for all parts of your body, even though the small bottle means that it's specifically formulated for use on your face. The sunscreen is also oil-free.  Winner all around, especially since the price is only around $15.
5.
Dermalogica Super Sensitive Faceblock SPF 30
.  If you have dry skin, then this sunblock is for you because it is definitely the most hydrating one I have tried.  That said, the sunscreen has a blue-based whitish tint to it that seems different – not as heavy – as the usual white cast that some of the other sunscreens have.  I found that the tint was subtle on the skin especially if you rubbed it in well, and waited for it to absorb.  And though it was moisturizing and initially greasy, it did seem to set after a couple of minutes and I was happy with the overall finish that remained slightly dewy. Still, if you have darker skin, you don't want a tint at all and so this might not be the product for you.  Fragrance-free, and enriched with vitamins A, C, and E, this is a sunscreen that doubles as skincare, and it better, because at a price of $60.50, it's also the second most expensive one that I tried.  Pick it up at
ExclusiveBeautyBoutique.com.
6.
RoC Soleil Protexion Velvet Facial Moisturizer SPF 30.
  This is an awesome choice for combination and dry skins because it moisturizes with a velvet soft finish.  Formulated with silica to absorb oil, this sunscreen leaves skin shine-free without being overly matte.  There's no greasiness or whitish cast, so this one does much better than a normal sunscreen.  Available for $22 at drugstores.
7. 
Prevage Triple Defense Shield SPF 50 Sunscreen.
 Probably the best sunscreen for dry and very dry skin, Prevage combines their renowned anti-aging ingredients with their SPF 50 sunscreen.  This product has anti-oxidants to help combat the harmful effects of the sun, and after a few weeks of use, you'll notice a difference in your skin the way that I did.  I had softer smoother skin, thanks to using this sunscreen regularly!  The sunscreen is moisturizing and doesn't leave a whitish cast on skin.  It's great for blending with foundation because of its liquidy serum-like texture.  The packaging is also interesting – they attached a foundation brush to the bottle so you could apply the sunscreen without getting your hands dirty.  I found that it was just easier to squirt some sunscreen into my hands, and then apply it all over my face and neck because then I could control how much product I was getting on my face a little bit better.  They say that it dries to a soft matte finish, but I did not find this to be true.  The finish is quite moist and satiny, and will stay that way.  It's still a great suncreen though.  $95 at the Elizabeth Arden counter.
8. 
Obagi Nu-Derm Healthy Skin Protection
SPF 50.   
If you're amidst the ones with sensitive skin that breaks out easily, you're going to want to pick up the Obagi sunscreen because it's made by a skincare line that's trusted to take care of skin conditions.  Although you can't get it at the drugstore, this line is easily available at med-spas and dermatologists offices everywhere, so you shouldn't have any issues getting your hands on it.  The Obagi Sunshield is a light-weight cream that easily blends into skin without leaving a white finish.  It dries almost-matte, and before long, you forget that you've even applied any at all.  Obagi is definitely my favourite medical skincare line (products that actually work!) so this is one sunscreen that's worth investing in.  You can get it at med-spas and dermatologists' offices for $46.50.
9. Coppertone Oil Free Face Sunscreen Lotion SPF 30. Coppertone's Oil Free option for sun care, offers a light lotion that's still moisturizing and an effective block against the harmful rays of the sun.  The lotion feels like a regular moisturizer and without the white residue on the skin, it looks like it too!  The moisturizer is paraben free, and waterproof too, and it's been great to use under makeup . Pick it up for $11.99 at drugstores.