Here are my top three sunscreens, in case you're heading to the drugstore to stock up!
Friends, if you want good skin, there's one thing you absolutely must do: wear sunscreen every day, on your face and on your body.  You may think that you're not outside and baking in the sun, however there's a lot of sun exposure from just sitting in your car or even on short walks outside and that's what leads to freckles and other incremental sun damage.
The weather's great now: maybe you're playing outside with your kids, or taking time for walks, or opting to sit on a patio rather than inside.  These are the activities that are really going to add up.  One day you'll notice that your skin is dark enough that you need to change your shade of foundation, and that means that you have incurred some sun damage.
The best way to ensure that you're wearing sunscreen daily is to use one that you like.  Apply liberally on your face, neck, and then continue to apply on your arms and any other areas that are going to be exposed to the sun.  You'll find that if you have a good formula (with no white residue) that you won't mind applying the product and it will even help your makeup apply better and stay on longer.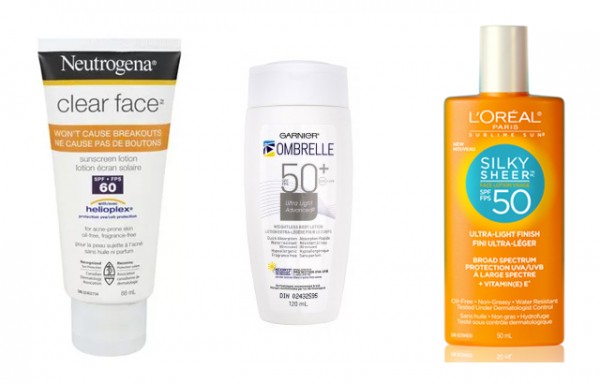 Here are some that I love:
1. Neutrogena Clear Face Sun Lotion.  I love this because it comes in a big tube and isn't too watery so it doesn't go all over the place.  It's also not whitish and has kind of a dry light-weight feel after application so it doesn't get too oily on your face.  Apparently it's proven not to cause break-outs, but stick with something formulated for the face, and you'll be fine.  Works well under makeup.  This comes in SPF 30 and 60… but why even bother with the 30 when there's SPF 60 available?  $12.49 at drug stores and mass merchandisers.
2. New Ombrelle Ultra-Light Advanced. This is new this year to the Ombrelle line of sunscreens and contains Mexoryl which helps keeps the sunscreen stable as well as providing protection against UVA and UVB rays.  Available in a formula for face and a more watery one for the body, this sunscreen is more fluid and feels weightless to the touch.  It's truly a light formula and I find that the body one is light enough even for use on the face, which is great because it means I can stash it around the house and just worry about applying one thing before I head out on to the patio or to the backyard!  $19.99 also at drugstores and mass merchandisers.
There's also a kids version of this sunscreen which is 100% mineral.  It's gentle for the kiddies but it does have a white cast because it's mineral-based.
3. L'Oreal Sublime Sun Silky Sheer Face Lotion.  This is one of the watery formulas that is available on the market, but it's maybe my favourite one to apply before makeup because it makes your skin look so smooth that you can definitely apply less foundation afterwards. The SPF 50 broad spectrum formula means that you'll definitely have adequate sun protection and the vitamin E in it means that your skin will also get a dose of moisture.  It's also available in a tinted formula but I prefer to skip that because I tend to get it on my clothes if I'm applying sunscreen on my neck or hands.  $17.99.
Those are my favourites that live on my vanity and I apply one of them every single morning.  You can't go wrong with any of them and they will get you through the summer.  More sunscreen reviews coming if I discover something new!