Anyone who grew up with Super Nintendo wayback when will love the whimsical packaging for Shu Uemura's holiday collection. It features Super Mario and characters from the game as a throwback to the times when I just used whatever shampoo my mom bought for me.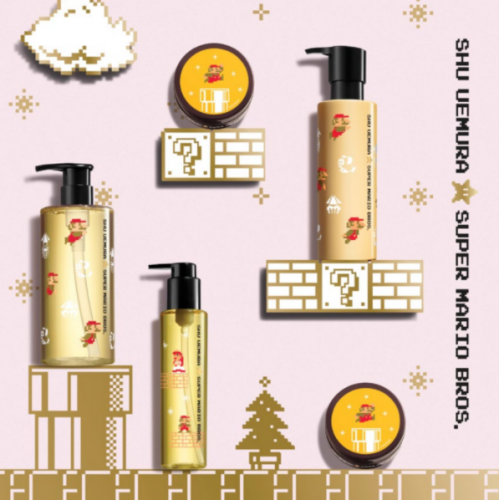 The Super Mario Bros. x shu uemura Art of Hair collection is limited edition for the holidays and the packaging is good, but what's inside the bottles is even better.
The collection includes:
shu uemura x Super Mario Bros. cleansing oil shampoo, 400ml, $56.00
shu uemura x Super Mario Bros. cleansing oil conditioner, 250ml, $56.00
shu uemura x Super Mario Bros. essence absolue oil, 150ml, $69.00
shu uemura x Super Mario Bros. master wax, 75gr, $42.00
I've been bouncing around from shampoo to shampoo for the last little bit, trying to find something that's not too heavy for my fine hair but still not too drying, and I have to say that the Cleansing Oil Shampoo is it. This is a gorgeous formula and I wish I had tried it earlier. Formulated with no silicones, but castor oil and glycerin, this shampoo foams but also leaves your hair super shiny and smooth. I used the Cleansing Oil Conditioner aftewards, and that made my hair super smooth and easy to comb through but still washes clean and leaves hair feeling light.
Finally, the Essence Absolue Oil is so good that I've added it to my limited counter space, because I'm going to continue using it until it's done. It's formulated with camellia oil (and silicone) to smooth your hair, but it's super light, so it adds tons of shine and moisture, but doesn't weigh hair down.
All in all, this is a collection to gift to someone who loves their hair care products, but probably hasn't tried this line because they fly a little under the radar.
Pick it up onlineor in salons.