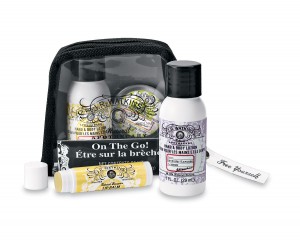 With universities out, and some schools on spring break, it's only natural that we're all thinking of going away for some R & R.  I always take travel kits with me, because they save me the hassle of packing full bottles.
Now, J.R. Watkins, my favourite natural drugstore brand has On The Go! kits and they're a life saver.  The kit includes: Lavender Hand & Body Lotion, Lemon Cream Hand & Body Lotion, Aloe & Green Cuticle Salve, Natural Beeswax Lip Balm.
You can find it at Shoppers Drug Mart for $10.99, and yes, they are also paraben free!