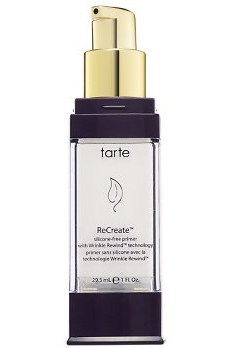 The weather is hotter, and that means that my skin is oilier. I need to take care that my makeup lasts all day, and so I've taken to adding a primer to my routine. Unlike most folk, I don't use a primer under my foundation. Because I already apply a layer of sunblock under my foundation, I really don't like the idea of adding yet another layer of product to my face.
Instead, I take a liquid foundation and actually mix it into my primer. This gives me a nice tinted moisturizer that I create for myself, and I can vary the amount of coverage depending on how much I need. Plus, I get the benefits that a primer provides.
So lately, I've been trying Tarte's ReCreate Silicone Free Primer. I was eager to try it because if I use silicone products too much, I break out and I really didn't want to add that to my routine. However, I was doubtful that this would actually work because it didn't have silicone in it. Tarte's ReCreate foundation is probably one of my favourites, so this primer was on my must-try list.
I tried using this with a variety of different foundation but not Tarte ReCreate because I had already given that to my sister (it's the only thing that covered her dark circles but looked amazingly natural). Instead, I tried this with Armani Luminous Silk foundation and MAC's Studio Sculpt foundation (review coming soon!), and mixed a pump of the primer and a pump of the foundation directly on to my Sephora foundation brush. The effect was a dewy layer of foundation and primer mixed together, and after a few hot (and long!) days, I'm totally smitten with this primer.
Not only does my foundation look completely fresh at the end of the day, but my skin is even-toned and glowing after using this consistently. There's no oily-ness on my skin at the end of the day, and I've noticed that this combination doesn't settle into fine lines around my eyes. It's a totally flawless yet natural looking finish, and I can wear it for as long as I need to without worrying about my skin or my makeup.
This is a must-have product for the summer and is a real find if you don't like silicone in your products.