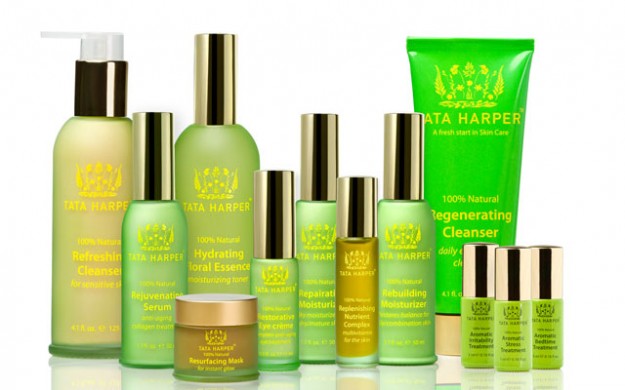 Pure + Simple has added luxury organic (and beauty editor favourite) skincare brand Tata Harper to their holistic spa lineup. My favourite type of beauty is clean and green so I jumped at the chance to chat with Tata herself when she was in Toronto last week. With a mandate to create beauty products that are effective, luxurious and non-toxic, Tata is based on a 1,200-acre Vermont farm – and many of the brand's plant-based ingredients are grown right there. A botanical beauty expert, I sought out Tata's best skincare tips.
What's the one thing everyone should do for age-prevention?
Eat well and sleep well. A third of the nutrients that we eat go into our skin so it's really important to eat well.
What's the biggest beauty mistake people make?
Being too aggressive with acid peels. Peels have their time and place but they do thin the skin and really you want thicker skin as you age. You shouldn't do peels too often. If you want to be aggressive, be aggressive with hydration!
If someone wants to start using natural beauty products, where should they begin?
Start with a product that you feel most comfortable changing – likely your cleanser or masque. Once you get comfortable with a non-toxic version of that product you'll be more likely to give up you beloved moisturizer and eye cream for something natural.
What's your personal favourite skincare product from your line?
Rejuvenating Serum – it strengthens and stimulates the skin's collagen production to firm and smooth lines. My skin has never looked better since I started using it. When it comes to skin, I say: don't cover up, repair it.
What botanical ingredients are you most excited about right now?
Spanish lavender extract – It inhibits muscle contractions that cause wrinkles by 95% within two hours.
Biotechnology collagen complex from narcissus bulb extract – It increases elasticity by 10% after 14 days and decreases wrinkle depth by 10% after 28 days.
Stem cells from flowers – It's collagen stimulating.
Sea daffodils – It has skin-lightening properties.
Good natural sunscreens are so difficult to find. Are you planning to develop one?
Yes! We're launching a BB Cream next year with a 35 SPF.
Tata Harper products are lightweight and luxurious but I'm really obsessed with the collection's gorgeous floral aroma – if it was bottled as a perfume, I would totally buy it. Tata is definitely a higher end line with pretty steep price points but the products are concentrated so a little goes a long way. I enjoyed everything I tried and there were several standouts.
Not everyone is a fan of toner but I use it daily and the Hydrating Floral Essence ($65) is lovely. Tata recommends spraying it throughout the day for an instant hydration boost. The aroma alone (obsessed!) is completely uplifting. Rebuilding Moisturizer ($100) hydrates and leaves an incredible matte finish. It's perfect for daytime use and I can skip my blot powder and just go bare when I use this. Replenishing Nutrient Complex ($45) is a lightweight face oil with rosehip oil and jojoba. It's packed with nutrients and adds a final layer of protection against environmental aggressors.
You can find Tata Harper at Pure + Simple spa locations and their online store.