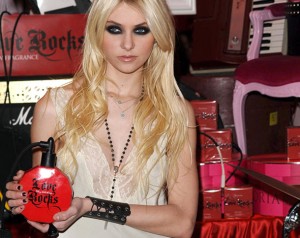 This image of Taylor Momsen landed in my inbox last week.  She is promoting Victoria's Secret's new scent Glam Rock.
It's clear that VS is going after the young customer – high school girls who love Gossip Girl.
But Taylor Momsen's look?  I'm not a fan.  Yes, she of the dark lipsticks (she loves Nars, she says), and now the much too much dark shadow.  VS is probably trying to be more rock and roll instead of princess with this scent, but I'm not sure if this is doing it.  It seems like they booked Momsen since Avril Lavigne wasn't available, and I have to say that Lavigne does it much better because her look isnt' so affected.
What do you think?  Like her look here?  Can we talk Gossip Girl?