If you've ever met me in person, you know that I have a ridiculously large yet very beautiful indigo patent leather purse. When I first got it, my mother asked me "why do some people need such large bags?" Needless to say, "some people" meant me.
But a large purse is every editor's "must-have". You can keep extra heels in them so that you can run to an event after work, or better yet, have this season's favourite cardigan or pashmina at your disposal.
Sometimes, things stay in my purse for so long that I completely forget about them. Until I need them.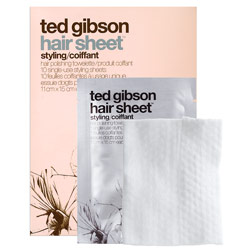 Ted Gibson Hair Styling Sheets belong to that category. I always have at least one in my purse and forget about it until I have a major hair disaster.
Like the time I went to get a hair treatment done and the stylist decided to blow-dry my crazy frizzy hair without any product at all and I had to run to a club afterwards. I left the salon, ducked into a bathroom, and opened my purse to see if I had any kind of oil or balm that could tame my hair. Thankfully I found the hair sheet, which I frantically pulled open and used cautiously at first and the with abandon. It was soaked with a super-light serum that was easy to distribute through my hair and made it look shiny and calmer.
I've seen these sheets around for a while, and I got my box of 10 at Holt Renfrew.