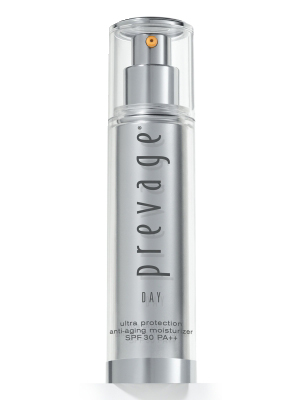 Friends, I am loving Prevage's newest formula with spf in it. It is called Prevage Day Ultra Protection Anti-Aging moisturizer, and yes, at over $100 it is not cheap. The thing is that the formulation is really nice especially at this time of year.
This is a fantastic moisturizer that does start off being  a little greasy and then absorbs completely into your skin.  It has SPF 30 but it's not at all chalky or whitish on your skin, and it's definitely not overly moisturizing like most other sunblock creams.
I love this so much that I'm waiting for Prevage to come out with a nicely formulated tinted moisturizer just for us gals that want everything in one bottle.
Check this out at your local department store at the Elizabeth Arden counter, it is probably one of the best skincare creams with spf that I have tried.