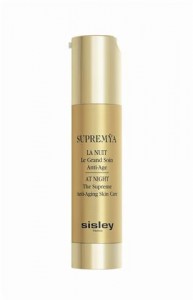 There's a face cream on the market and it costs $980. Of course, I'm talking about a cream only available at Holt Renfrew, and that at the Sisley counter.  Sisley's new Supremya has a Phyto-Complex that purports to help slow down the aging of skin and keeps it supple and smooth.  It also helps reduce damage caused by UVB radiation.
All this means is that there's something in Supremya that helps it resist stress and repair itself.
The cream smells amazing, makes skin looks like it's glowing, and hydrates like a dream.
If you're looking for the best in skin care, you can't go wrong with Sisley, so try it for yourself.
As I write this, I do wonder how many of you would be willing to spend this much on a face cream.  And if not $980, how much is the most you can spend?  Do you spend on La Mer?  Dior?  Lancome?  or are you happy with your Olay?  Share in the comments, I'm curious.