is launching October 15th on www.loosebutton.com, and I can already tell you that it's going to sell out in 1 day.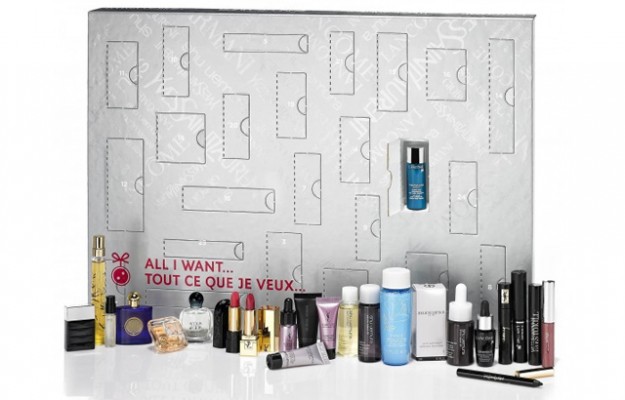 It's the L'Oreal Luxe Advent Calendar. That's right – an advent calendar filled with beauty goodies! And not just any beauty goodies – just high-end ones from L'Oreal Paris brands such as Giorgio Armani, Shu Uemura, Lancome, and YSL. It's a gift so crazy and good that I haven't even opened mine. I'm going to do the whole advent count-down thing starting December 1st.
Here's what's inside (and it's GOOD)
Yves Saint Laurent Rouge Pur Couture Lipstick
Lancôme Généfique Youth Activating Concentrate
Shu Uemura Fresh Pore Cleansing Oil
Yves Saint Laurent Opium Eau de Toilette Spray
Lancôme Hypnôse Doll Lashes
Lancôme Bi-Facil Eye Makeup Remover
Shu Uemura Phyto-Black Lift Cocnentrate
Giorgio Armani Eyes To Kill Mascara
Shu Uemura Phyto-Black Lift Radiance Boosting Lotion
Yves Saint Laurent Belle D'Opium Eau de Parfum
Yves Saint Laurent Forever Youth Liberator Serum
Yves Saint Laurent Dessin du Regard Waterproof Eye Pencil
Giorgio Armani Multi-Corrective Rejuvanating Regenessence Cream
Lancôme Trésor Eau de Parfum
Yves Saint Laurent Mascara Volume Effet Faux Cils Shocking
Yves Saint Laurent Forever Youth Liberator Eye Serum
Giorgio Armani Youth Regenerator Regenessence Serum
Lancôme L'Absolu Rouge
Shu Uemura Gloss Unlimited
Lancôme Visionnaire Advanced Skin Corrector
Giorgio Armani Fluid Master Primer
Giorgio Armani Attitude Eau de Toilette
Giorgio Armani Acqua di Gio Eau de Parfum
Giorgio Armani Eau de Jade
Not only is this a great way to get into the holiday spirit, but it's an absolute fantastic way to try some high-end beauty products.
A few details – the advent calendar is $109, and the products contained are deluxe samples. Yes, you might be able to score them yourself if you visited the counters and spoke sweetly, but I know that in some cases they just aren't ever available (think deluxe samples of the mascaras which are pretty much impossible to score). The calendar also includes a $10 gift card to spend at LooseButton.com which is a members-only shopping site. They sell something called a Luxe Box which is a sampling box available every 3 months. The Luxe Box is filled with 7 or 8 trial sized beauty products.
The calendar is just one way that you can check out the Luxe Box experience but without getting the box.