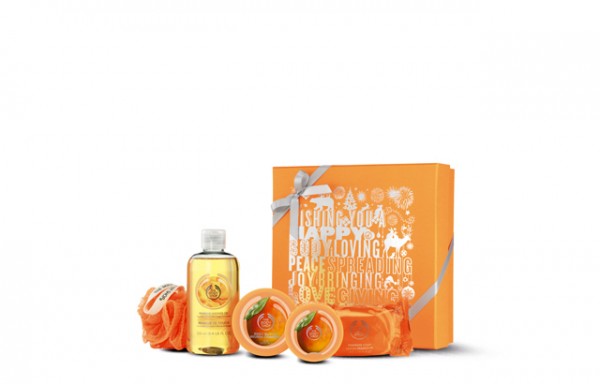 Ok, so the  Body Shop Advent Calendar is a big hit.  Perhaps the best $129 that you can spend at this time of year, because it has the potential to send happiness to so many people.  
But here's another present that can provide a lot of happiness, and it's only $25.  It's The Body Shop's Mango Festive Picks Gift set.  Included is:
Mango Shower Gel 250 ml
Mango Body Butter 50 ml
Mango Body Scrub 50 ml
Mango Soap 100g
Orange Mini Bath Lily
And the most amazing part is that the gift also sends a child to class!  The Body Shop has paired up with War-Child Canada to donate money to war-torn areas.  You can find out more about the program here, and about what other gifts you can purchase that help children in other countries.  It's a genius idea, I think, because even if you weren't thinking about giving anything extra, you already are by getting this gift.
The Mango Festive Picks gift set is great to gift because The Body Shop's mango scent is pretty pleasant and not too strong.  The Body Shop also has a range of other gift sets that are more or less expensive, so you can find something that fits into your budget.  In my experience, even people that aren't into products seem to love The Body Shop.  It's kind of one of those family favourite companies that everyone has heard of and just loves.
Pick yours up online or in stores.