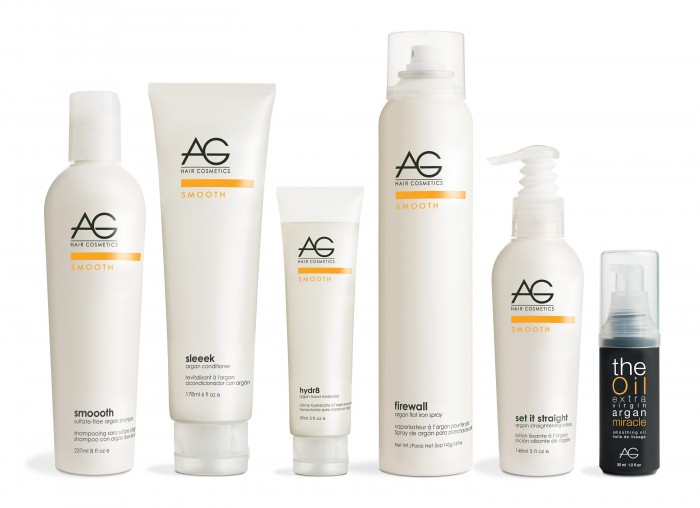 Seriously, I haven't been this impressed by a hair care line in a long time. AG's new Smooth line has a range of products that give you smooth, sleek, frizz-free hair, and all with natural ingredients.
Let's start with their shampoo and conditioner ($20 each), called Smoooth Sulfate-Free Argan Shampoo and Sleeek Argan Conditioner. Yes, you wash these down the drain, but the AG Shampoo and Conditioner really are way better than anything else that's out there. They're both light-weight yet coat hair in a protective barrier that keeps the moisture in. You'll notice smoother hair that's easy to comb out, and much less tangled than usual.
Next, you need to try the Set It Straight Argan Straightening Lotion ($16). Unlike most blow-drying gels that came out last year, this one actually works. It's a super watery and runny product that's easy to distribute even through really long hair. The best part is that when you run your brush through it, and use your blowdryer, your hair sets straight and you come pretty close to a salon blow out.
Finally, my all time favourite is the Firewall Argan Flat Iron Spray ($24). This is an instant drying spray that prevents the flat iron from skipping and getting stuck on the hair. You avoid damage by keeping the flat iron moving. The spray leaves your hair super shiny, and a tiny bit goes a long long way.
All the AG products are available in March 2012 at AG salons.