Thanks to this DIY article, we've all been able to master the sock bun technique. Has anyone else found that the sock bun is so much easier on hair that's full and voluminous? I find that it just doesn't stick together as much, and the hair is easily distributed all the way around the bun.
Here are the best products to use on your hair to prep it for a bun or any other style that needs a lot of volume.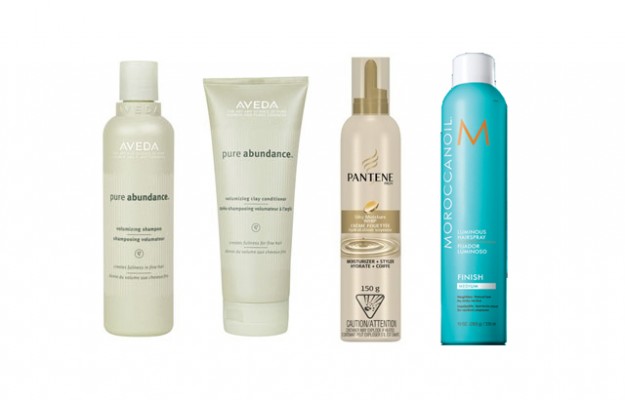 1. Aveda Pure Abundance Shampoo and Conditioner. This is probably one of Aveda's best-selling lines and it's because it works.  The shampoo works to get all the gunk out of your hair, while the conditioner has a tiny bit of clay in it to make your hair feel and look fuller.  Now, if you're turned off by the thought of putting clay in your hair, don't be.  I find that this shampoo and conditioner really works and even with the clay, my hair is shiny and really full after using it.
2. Pantene's New Silky Moisture Whip.  Now your can have a mousse that actually moisturizes your hair.  This mousse has the consistency and look of meringue and soaks into your hair without weighting it down.  It leaves hair super silky too and is a must-have for this fall weather.
3. MoroccanOil Luminous Hairspray. We love this hairspray because it's light on the hair but has strong hold and intense shine.  Use it make sure those little hairs stay in place and so that your entire look is clean and polished.  The best part is that it doesn't feel sticky and it doesn't flake so when you take your bun out, your hair will just be smooth and shiny.