Let me start by saying that I've never had highlights that I loved.  I have dark brown hair and they usually come out a little too orange for my tastes.  I don't want blond highlights and so finding that perfect shade is hard to do!
But now I know where to go for the perfect highlights.
I've had great success at DK.Envy Salon.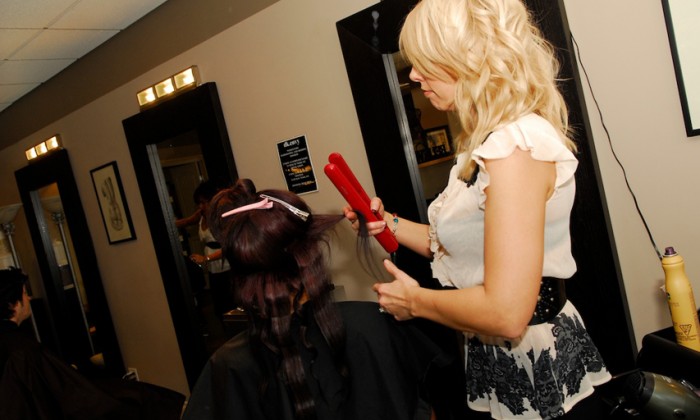 I went in to experience the INOA hair colouring system, and had an appointment with Darlene, the owner of the salon.  She's from a hair family – her mother was a hair dresser too and as much as she tried to avoid the profession, she realized that it was just want she loved and was drawn to.  So she's grown up about hair and beauty, and knows a thing or two about what looks good, what doesn't, and what will work.
At my initial consult, she really tried to get to know me and my style.  I tend to be more conservative, and didn't want to do anything crazy with my hair.  I wanted the same base brown colour, though Darlene suggested that I could pull off a rich black too.  Next time, I thought.
In keeping with my style, we decided that the highlights that we wanted should be really subtle.  Darlene made them super fine and from far away it looked like my hair was just sun kissed.  The blow-dry that followed was super pretty and gave my super fine hair so much volume.
When I got home, I realized that I wanted my highlights to be a little darker, but I still loved the way they looked – especially in the sun!
Darlene called me for a follow-up and I told her what I was thinking, and she said "No problem, come in and we'll fix them!"
So I went in for something called a re-tone.  They put some more dark pigment into my hair so that the highlights could get a little bit darker.  The entire thing took 15 minutes and was super easy to do.
Darlene also put a L'Oreal Moisture Boost in my hair to give my ends some TLC, and I walked out of there with the most perfect highlights ever.  The highlights even convinced a friend to get her dark hair highlighted at the salon, and she couldn't be happier.
The highlights and blow-dry for my long hair was $160.  A Re-tone costs $55, and a Moisture Surge is about $35.  DK.Envy is located in the SW of Calgary and you can reach them at (403) 532-0078.  Darlene is the owner and head stylist and I loved her work.