I really like the look of lip stains because they stay on and they look more natural than lipsticks or glosses. I've been using MAC ones before, and they are pretty good – the colour can be sheer yet buildable. They don't last forever, but the staying power is not bad and an application can get me through the morning.
I've also tried Vasanti lip stains – they are quite difficult to use. The texture is so watery that the pigment hardly stays on the lips, and when you do manage to get it on, it looks blotchy. Applying more of the stain doesn't help because it just rubs out the colour that you did manage to get there.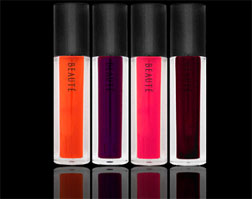 And now I've found the best stain ever, and it's by Beaute cosmetics. Beaute is a line of products started by Canadian-born, New York residing makeup artist Beau Nelson. There are only a few products in Beau Nelson's line, but each and every one of them is amazing. I have a Beaute lipgloss and it's one of the best I've ever tried – non-sticky, lots of staying power, and a chic colour that I wouldn't have been able to find elsewhere.
The Beaute Liqui-Gel Stains are in a league of their own when it comes to lip products. The stain is a true gel that's not watery. One application gives bright vivid colour so that you don't have to play around with the application and try really hard to do get good colour. The colour I have is Fluoron which is a super-bright neon pink. It works well as both a lip colour and a cheek stain, and even when I layer a gloss on top of it, I find that the colour stays and does not wear off. The only thing that can take off this stain is an oily cleanser along with some soap and that's how stains should be. Trust me, this will last you though the whole day.
You can purchase Beaute Cosmetics through their website.