After decades of being scared of using oils on our skin or anywhere around us, the beauty industry has come full circle and now embraces all sorts of oils. Here are the ones that we can't live without.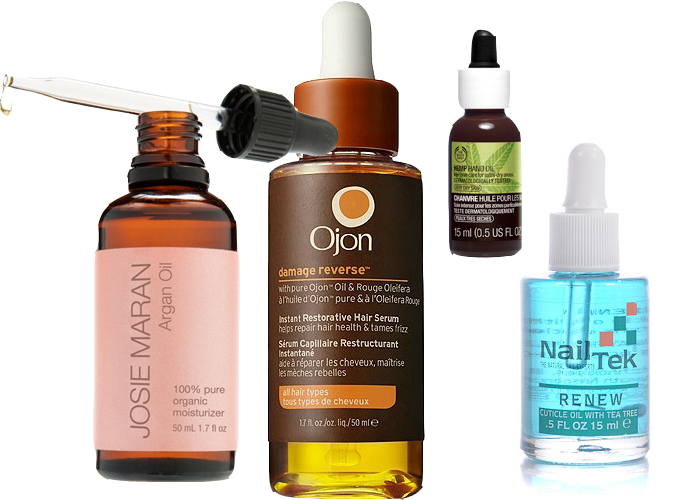 1. Josie Maran Argan Oil. This oil is formulated to be used all over the body, and unlike most Argan Oil products, it's the only one that's 100% Organic Argan Oil.  We love this as a pre-wash conditioner on our hair. Put on after washing and we found that it weighed down our fine hair but we really liked it for a deep moisturizing treatment before special occasions. Oh, and it does double duty on elbows, knees; and even on your face without clogging pores. $18 for .5 oz at Sephora stores.
2. Ojon Damage Reverse Instant Restorative Hair Serum.  Ok, it's technically not an oil, but it has oil in it and acts and works like an oil.  Said to plump up the hair strands this is better than the original Ojon treatment because it's easy to apply and smoothes through hair without clumping. Baby fine hair may find that this weighs everything down but thankfully it works equally well as a pre-conditioner.  $28 at Sephora stores.
3. The Body Shop Hemp Hand Oil. This hand oil has kept major hang nails at bay thanks to the fact that it's on our desk so we never forget to apply it. It absorbs fast and smells green and woody so it won't offend those around you!  This is a product that we can't live without.  $12 at The Body Shop locations.
4. Nail Tek Renew Cuticle oil.  Simply for the cuticles, this oil is thicker than the hand oil and so stays where you put it. It's perfect for after a manicure or pedi ire to seal in moisture for a long time.  $12 on TheShoppingChannel.com though it is currently sold out.