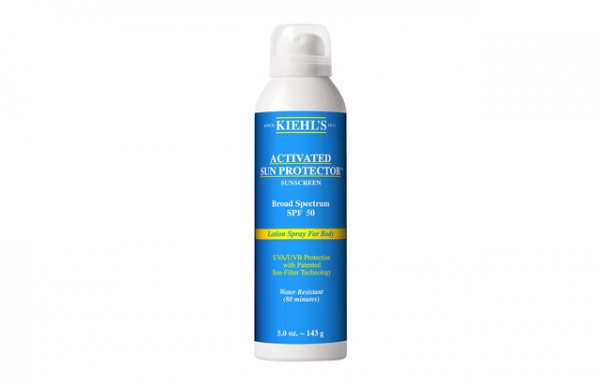 Leave it to Kiehl's to one-up the spray sunscreen that you get at the drugstore.
Some spray sunscreens that I've tried this season are fine mists that are almost too light – I don't know if I've gotten enough coverage, and a little too often I've left spots uncovered and inadvertently gotten burned.
But Kiehl's Activated Sun Protector Lotion Spray for Body is a spray that's different.  The formula is more like a runny sunscreen: it's white, and you can see it as you apply it.  The sunscreen is also oil-free, paraben-free, ultra-lightweight that gives broad spectrum protection.
Made for the body, I feel like it's light enough for me to use it on my face without another thought.  It's smooth, gentle, and absorbs easily and leaves your skin feeling soft and smooth.
Many dermatologists feel that people don't apply enough sunscreen, and not often enough, but this fluid makes sure that you're applying it evenly and all over, and because it's an easy-to-apply spray, there's a good chance that you'll keep on reapplying it.
The sunscreen also has a blend of Goji Berry, Vitamin E, and Einkorn Wheat to act as antioxidants that help neutralize free radicals that are present in sunlight.
$32 where Kiehl's is sold, available in SPF 30 and 50.