Now that summer is here and things are slowing down a little bit for me, I'm pushing myself to work out more often and that means that I'm into eating better too!  Protein is something that I struggle to include in my diet, but I've discovered the BEST tasting protein I've ever tried, and it's made from Greek Yogurt too!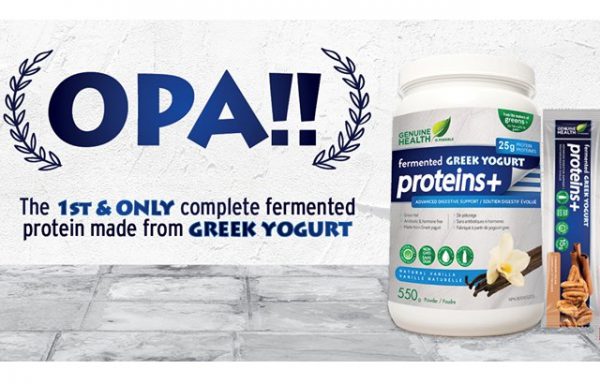 I'm talking about the Genuine Health Fermented Greek Yogurt Proteins+ which comes in powder or bar form.  Personally, although I love a protein smoothie, I'm really loving the bar version of this protein. It's yummy and portable which kind of makes it a perfect breakfast.  
What's even better about this protein is that it's made from protein from grass fed dairy, and is also non-GMO and antibiotic-free.  
The protein bars have about 200 calories and 15 grams of protein which make them a filling and satisfying snack.  The flavours are pecan cinnamon, or cherry almond vanilla, and they both taste amazing.  They are made with a variety of proteins (pea and whey) and sweetened with cane sugar, agave syrup, and brown rice syrup.  It's a nice formula that doesn't compromise on taste and still gives you protein. 
Pick them up at your local grocery or health store. To find a store near you that sells Genuine Health products, just head over to the Genuine Health website.