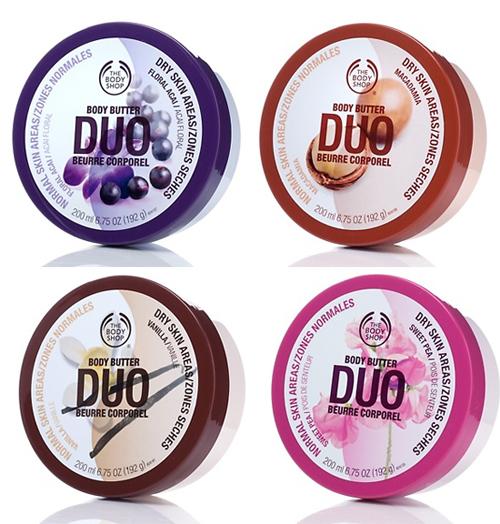 The Body Shop made their award winning body butters even better – they created Body Butter duos so that you can address all your skincare needs!
Available in Floral Acai, Sweet Pea, Vanilla, and Macadamia Nut, these body butter duos are jars divided into two parts. One part has a cream for normal skin while the other side has a thick body butter for your tougher areas.
Now, I normally don't find that I want to use two moisturizers, but I do like something thicker for my hands and feet while a normal moisturizer does well for my body. The Body Butter duos give me the option of choosing the best moisturizer for my needs but I only need one tub on my bathroom counter so I love that! Because of the range of moisturization these offer, each tub is suitable for all skin types.
The lighter moisturizer absorbs quickly so it's great for arms and legs, while the thicker moisturizer is harder, melts between your hands, and takes longer to sink into the skin. Still, both will keep dryness at bay and give you very soft skin that's lightly scented.
Each tub is $18 available at all Body Shop locations.