I'm a new mum, and that means that recently I've had to wander into the wonderful world of baby products.  New parents out there will agree with me when I say that shopping for baby products is difficult!  It's a very specialized market, and brands have figured out that the best way to sell more stuff is to tap into parents' fears.  Of course, every parent wants the best for their baby, and each and every brand tells you that what they're selling is the "best".
Anyway, of course I'm more careful on my child than I am on myself.  I don't try every little thing on her, and I definitely play it safe when it comes to bath and body products.  At first, I used products that were unscented.  I wanted to make sure that she wasn't allergic to anything.  And then – when I thought my baby could handle it – I ventured out a bit because I just couldn't resist baby products that smelled nice, and Buriti Baby from The Body Shop is one of the lines that I tried.  It was the first because I know that the products are more natural than most of the other ones out there and so I felt a level of safety trying them.  Note that there is no Johnson and Johnson's baby products in my house – too commercial, not natural enough for me.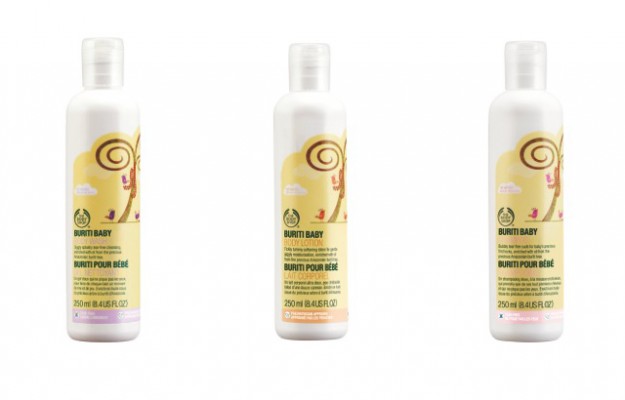 I have The Body Shop Buriti Baby Shampoo, Body Wash, and Body Lotion.
Of the three, the shampoo and body wash are awesome.  I mean: they clean.  They help my kid smell good.  The smell is fresh and unique – kind of herbal – and not the typical baby powder scent, and I like that.  The shampoo is tear-free, not that I've let any soap get into the baby's eyes, but it's comforting to know that this is a quality of the soaps.
The Buriti Baby Body Lotion, however, is awful.  It's too watery which means that applying it makes your skin feel cold and clammy.  It's not very moisturizing either, so there's really no value in using it.  I use a rich body cream, or olive oil instead, and I'm much happier with those.
This site definitely isn't turning into a parenting blog, but expect to see reviews of baby products once in a while.
Parents out there, I'd love to hear what you've used so let me know in the comments!