Fall is the time to invest in your skincare routine, because you know that you're going to be staying out of the sun (hopefully) and that means that you can start healing damage that may have occurred over the summer.  One way is with Vitamin C, which is a proven antioxidant (which means that it prevents "oxidants" from harming your skin and giving you wrinkles). Vitamin C also lightens scars so it's great to have on hand if you get the occassional breakout.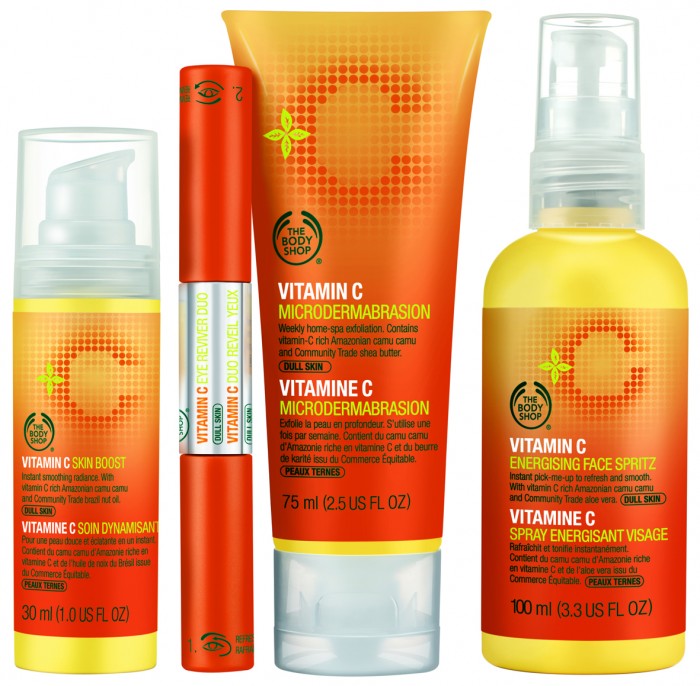 The Body Shop has a new Vitamin C collection, and of the products available you must get the Microdermabrasion ($20) and the Facial Radiance Powder Mix ($28).
Microdermabrasion is a finely grained scrub that really helps to refine skin.  Finishing using that, dry your skin, and smooth on the Facial Radiance Powder Mix.  This is essentially the same as a Dermalogica Vitamin C product I used to use, but it's cheaper!  You push down the top of the bottle to mix Vitamin C powder with the liquid inside to create a serum of sorts.  The Body Shop's beats Dermalogica's because it smells better and it's not as sticky.
The entire range smells like fresh oranges, and that's not a bad smell to be carrying around with you for about 5 minutes of the day as you wait for your skin to get better.
As always, when you're getting rid of a top layer of skin, stay out of the sun and wear sunblock.  Failure to do so can cause even more hyperpigmentation or burning and scarring, which is what you're trying to avoid!