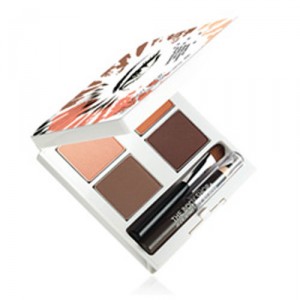 The Limited Collection for Eyes palette in 01 Boho Beauty is absolutely fantastic, and the name is completely fitting. I had my doubts after The Body Shop's less than stellar Christmas Palettes, but this collection is not only gorgeous, but the application is silky and long-lasting.
The palette is basically a four shadow quad with a mini eyeliner and a mini eyeshadow brush. It's literally, all you need in one compact if you're going for a relaxing weekend away.
The four eyeshadows in the palette are new nude (shimmery light peach), vintage apricot (matte orange), boho brown (matte brown) and haute chocolate (matte burgundy brown). In particular, the vintage apricot is gorgeous. I was sort of sceptical about it at first because it was such a bright orange, but it applies as more of a deep peach that adds a pop of colour to an otherwise rather neutral palette. All the eyeshadows are silky and highly pigmented; you really only need a tiny bit to get big colour payoff.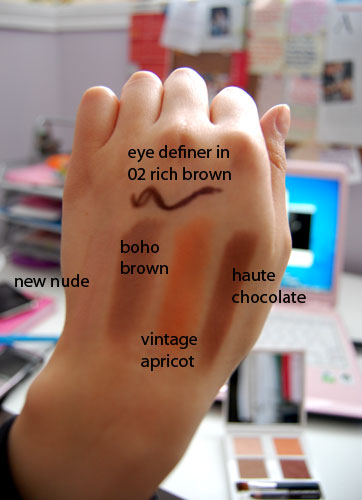 The mini eyeliner in Rich Brown was also a pleasant surprise. It's one of those really great eyeliners that starts off not too stiff, but not too creamy. It's really easy to apply and blend because it's not too creamy or too firm. (In fact, I'm probably going to go pick up the full size when I get a chance!)
Overall thoughts: this is the best palette I've used in a long time in that you don't need any extra stuff. It's literally a collection for eyes, because it has four really great colours, an eyeliner that is amazing, and a cute little brush that is high quality enough to apply everything with.
The palette is at The Body Shop stores for $24CDN