Or: "What To Get Someone You Don't Know Very Well" or also: "A Scent Kids Definitely Like".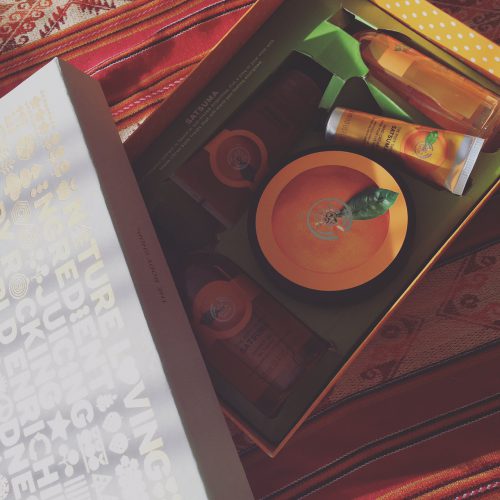 Ok, so truth be told, if I walk into a Body Shop location, the Satsuma range might not be what I'm finding appropriate for myself, if you know me, you know that I'm more of a Morrocan Rose kind of person, but I've never met anyone who doesn't like the smell of The Body Shop Satsuma range.  It's completely bright and fresh, and really does smell like fresh mandarin oranges, which happen to be in season right now, so smelling of Satsumas is completely appropriate.
I also love that the products in the range actually have cold-pressed Satsuma oil, as well as other moisturizers, in them, which makes them nourishing on the skin.
Shown above is the Satsuma Premium Gift Set which is only $45.  It also comes in Strawberry, British Rose, coconut, shea butter, fuji green tea, mango, moringa, Wild Argan Oil, and other variations.  Each is $45 and has different highlights from the collections – and for sure includes a body butter.
The Satsuma gift set includes:
This gift set includes:
• Satsuma Shower Gel 250ml
• Satsuma Body Butter 200ml
• Satsuma Body Polish 75ml
• Satsuma Body Mist 100ml
• Satsuma Hand Cream 30ml
Here's the hand cream.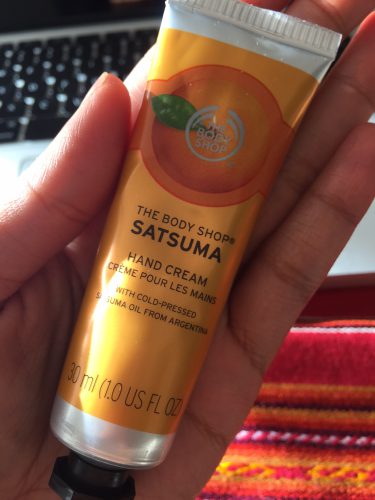 Plus, this Christmas, specially selected gifts (including this one) will help protect endangered species and restore 1 square metre of rainforest in Vietnam, Indonesia and Malaysia – you might be picking up a Body Shop gift set anyway, but this is also something that the receiver will feel good about.