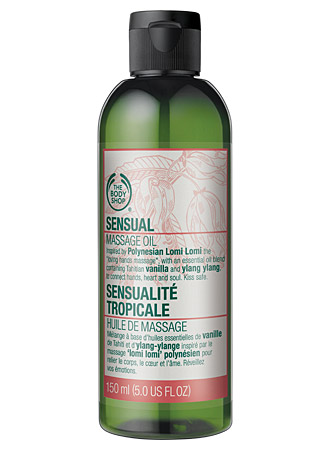 Consider this the nicest smelling product ever to come out of The Body Shop.  And yes, this beats the Spiced Vanilla Body Butter that they come out with in the winter!
The Body Shop's Sensual Massage Oil is a lovely blend of vanilla, and ylang ylang scents.  It has a woodsy, almost smoky undertone, and the muti-faceted nature makes it feel as if you're putting on a lovely perfume oil that came from a high end boutique and not just from The Body Shop.  Seriously the best smelling oil that I have ever used, this definitely picks me up when I use it.
This is available at The Body Shop for $18, and even if you're not going to give anyone else a massage with it, I think that it's a wonderful present to get for someone else or to receive!  And though I would buy it for the scent alone, the massage oil comes in other scents, as well as an unscented version.