Clearly, it's not just me who has spa at home products on the brain – The Body Shop is expanding their range of spa products beyond the African Spa Range. There is now a Japanese Spa, Moroccan Spa, and Polynesia Spa series. As someone who indulges at home rather than outside, these products really spoke to me. The scents are fresh, clean, and new and the products are, of course, top notch. Formulations are clean and actually work. Here are some of my favs from the collection: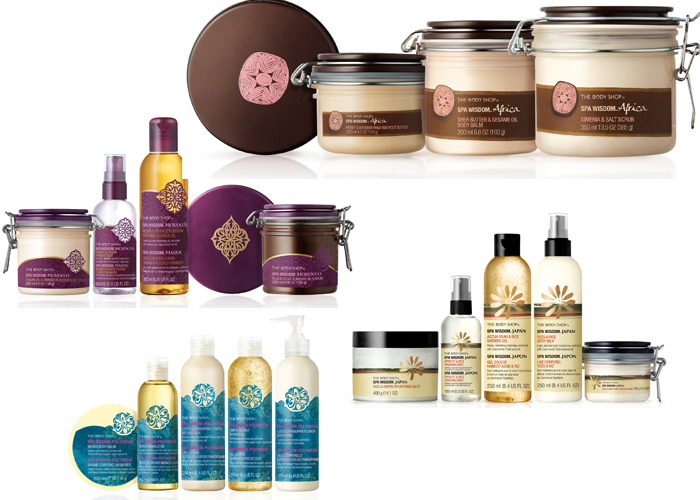 Monoi Body Balm from the Polynesia collection. This smells absolutely amazing. The Monoi scent is from Tahiti and it is naturally a bit of a gourmande floral. Think white flowers and a bit of coconut – at once enticing and refreshing, and utterly feminine. The body balm is thicker than most of the Body Butters, but it absorbs into skin very well and offers non-sticky moisturization and long-lasting scent. I even layer this with my regular perfume, and I get really nice long-lasting results.
I was also really impressed by the scent of the Japan Spa range.  The scent is a soft floral that's blended with what, to me, smells almost like green tea blended in.  It's floral yet fresh and super soft at the same time.  I used the shower gel in the bath, and it was a truly luxurious experience.  If there's going to be one product that you pick up, let it be from this range, because it smells amazing.
The Moroccan line probably has the most interesting and innovative products.  There's a body scrub that's in a gelatinous form, and a body souffle that's lightly hydrating and perfect for the summer.  However, although I was excited to smell something of rose petals or almonds or spices, this really had nothing of the sort in terms of scents.   If you want something fun to use, then check out this line, but if you're on the search for good scents then stick to the Polynesia or Japan Spa collection.
All in all, this is a wonderfully luxurious line, and some of the products really do rival what's available at the department store, so it's definitely worth checking out to try something new.