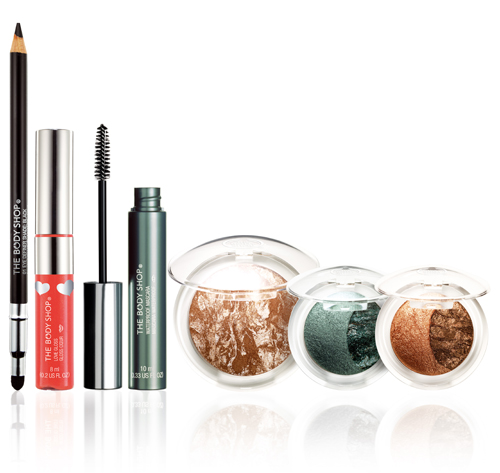 If you want high shimmer, then the Body Shop is the place to go in the summer. This summer, they bring back their marbelized mineral blushes and eyeshadows, as well as a selection of lip tints.
The product that caught my eye right away was the bronzer, of course. It has a mix of beige, white, and pink pigments that you blend together to create your own final colour. The veining and marbling is so fine in this that I really couldn't pick and choose the colour I wanted – I pretty much had to take it all. The bronzer is super light – I'm already tan, and I found that I couldn't really use it because the colour wouldn't show up on my skin! This would look great if you're really fair, but otherwise, you might want something darker.
The eyeshadows are baked as well, but are more pigmented than the bronzer and super shimmery. I find that they're pretty sheer, and when I wanted to use one of the darker colours as a liner, there wasn't enough pigment to have it show up as one even when I used the shadow wet. Still, the colours are really pretty, and sheer shadows work well when you want to keep your look simple.
The lip tints are my favourite part of the summer products. They're easy to use, and have just the right balance of colour and hydration. They're more hydrating than the Mary Kay Lip Nectars I reviewed earlier this month, and have less pigment which makes them easier to use.