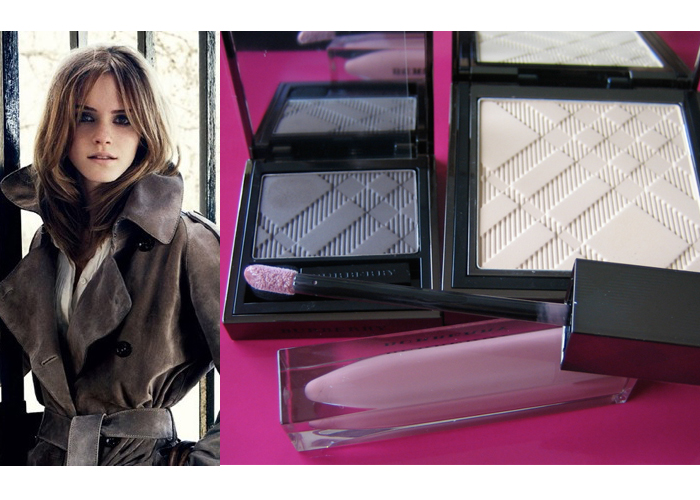 Burberry makeup launched earlier this year, and it has taken the beauty world by storm.  The products are top of the line and amazing to use, they're not cheap, but what's thrilling about them is that they can help you get the amazing low-key yet beautiful Burberry makeup look at home.
Here in Canada, Burberry makeup is sold at 2 Holt Renfrew locations – Bloor St. and Vancouver, but you can order them to your local store and get them there.
I tried the whole look with a few of the products, and I was pretty thrilled.  I have to say that these products do absolutely live up to the hype.  The powders are sheer yet buildable and so well-formulated.  The liquid foundation goes on so soft and smooth and you forget that it's there.  It's meant to work with the powder so there's no caking of the formula on your skin.
The eyeshadows are nothing too glitzy, which works perfect if you just want a soft and pretty look.  The colours are either matte or slightly shimmery with no glitter to be seen, which is just fine by me.  They're very pigmented and easy to blend.  Get this: they are also crease-free.  I used them in the Toronto humidity and after a day of wear, my entire face looked fresh with no fancy primer used beforehand.  Pretty amazing, if you ask me.
I think my favourite product has to be the lip gloss.  The colours don't have a lot of shimmer, and they're all so easy to use.  I had a hard time choosing a favourite colour because each one that I tried look good on me and was totally wearable on its own.  I had a mishap with my tube of Rose Glow – it fell on the floor and the glass tube broke apart at the top.  That's definitely never happened to me before, but I'm overlooking it and would definitely buy the gloss again and recommend it.
I think the part I love most about the entire Burberry Makeup line is that there's nothing else on the market like it.  If you're looking for natural makeup, you could go to Bobby Brown, but there are so many products in her range, and along with the number of finishes and colours, it's easy to get overwhelmed.  The nude lip glosses available remind me of Scott Barnes' original makeup line, and that was great but didn't do well because the packaging was rather awful.  Giorgio Armani has amazing makeup quality but their aesthetic is better suited for a dinner party than a fashion show or a day at the office. If you want simple makeup that's of the best quality, this is pretty much the only place you can go and know that a makeover at the counter will leave you looking presentable.
One last note about this makeup collection: I used the entire line – including a foundation and blush not shown in the picture – wore it out for the entire day and then met friends for dinner.  They remarked that my skin looked amazingly healthy and seemed to be glowing.  After hearing a comment like that, I pretty much know that makeup now has a new standard to live up to.