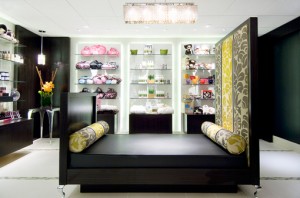 Recently, I visited Sante Spa here in Calgary, to see what was new and exciting in the world of medical spa procedures.  I asked Kim, the spa director, how people could extend the benefits of their procedures at home.  Her answer?  Get a Clairsonic!  So of course, I had to pick one up from them.
I got a Clairsonic Mia in pink which retails for $150.
First of all, the Clairsonic  is a lot different than I thought it would be.  It's more gentle!  The actually brush itself doesn't really move.  It just vibrates gently.  You have to actually move the brush around on your face to clean it, and as you do so, the sonic vibrations help loosen makeup and dirt.  The end result is that your skin ends up being more clean than if you didn't use the Clairsonic.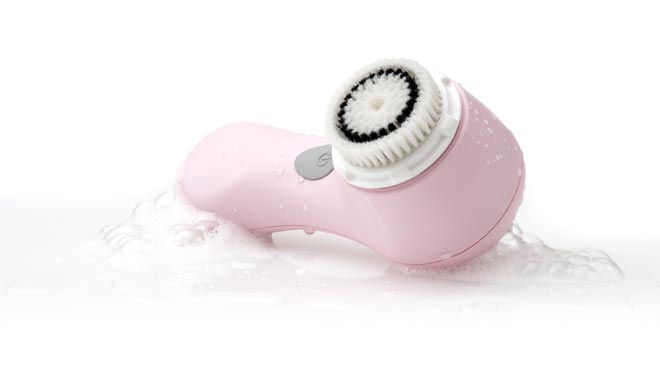 In fact, Clairsonic says that it is 6 times more effective at removing makeup than manual washing.  It also helps products absorb more because your skin is so clean.
After using it for about 2 weeks, I have to say that I've noticed a difference in my skin.  Even when it's as clean as I'm going to get it, after I use the Mia I see makeup on the brush head which shows me that it really is cleaning my skin better and getting rid of stuff that my manual washing could not get off.  I like that it's very gentle, and that I can use it morning and night if I want to (though usually, I just use it at night time).  The Mia only has one speed and a timer so that you don't overscrub your face, although I have to admit that sometimes I restart the Mia so that I use it for 2 cycles… I just like that squeaky clean feeling and do the same thing when I'm brushing my teeth with my electric toothbrush in the morning.
Features of the product also include 20 minutes of use after a full charge, which means I only need to charge it once a week.  It's also waterproof so I can take it into the shower if need be, and don't have to worry about it.  I like that they've created something rugged and that doesn't need too much pampering.
This is a product that just works.  If you're wondering whether you should get one, think of it as the difference between brushing your teeth manually and with a Sonicare brush.  Once you go to an electric toothbrush, brushing manually just doesn't cut it anymore.  It doesn't give you the same level of clean and you don't feel as if your teeth benefit from a manual brushing.  The Clairsonic is the same way, but for your face.  After you own one… you wonder what you ever did before you had it and why you were going to bed with your face so dirty.
I should note that if you buy a Pink Clairsonic in Canada, a portion of the proceeds go towards the "Look Good, Feel Better" campaign which helps women with cancer look and feel more beautiful.
I got mine at Sante Spa here in Calgary, and if you are in Vancouver, you can pick it up at their sister spa Sante Spa Victoria.