If there's one thing you need to add to your fall makeup bag, it's got to be some smoky blue shadow.  That's the trend we're seeing in this fall's makeup, and though it probably reminds a lot of people of bad '80's makeup, blue can actually be pretty and flattering!  The key is to use it properly, of course.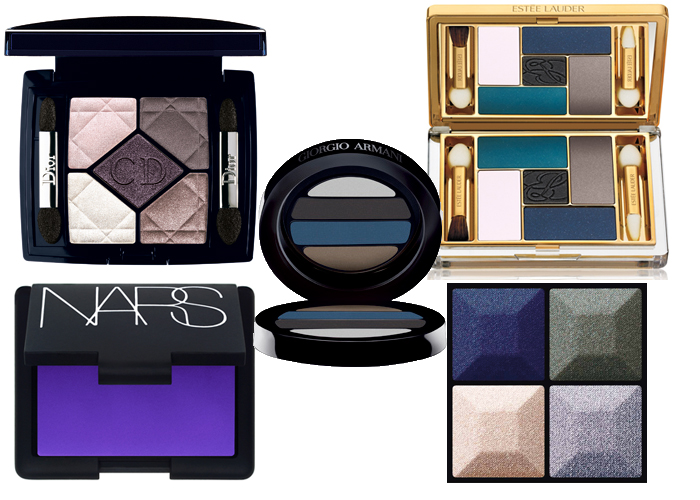 One way is to add it to your regular neutral shadow and use it as an accent, either in the crease or as a liner.  I love the sea-inspired colours in Estee Lauder's Blue Dahlia ($47.50) compact, because they come in matte and shimmery shades.
I'm also loving Dior's Misty Mauve compact ($58).  Purple is a flattering colour to brown eyes, and this has everything you need to either do a daytime look or a smoky night number.  One of the purples is even matte which makes it perfect for a diffused smoky eye.
The Giorgio Armani fall collection is inspired by the night, and their Night Queen eyeshadow palette has a lovely blend of smoky blues that reflect that.  The combo of blue and grey makes this one of the easier palettes to work with because grey is a colour that everyone can pull off and do a smoky eye with.
NARS has an eyeshadow out this season called Daphne ($26), inspired by Daphne Guinness, the model.  This is more of a royal blue and is great for a punch of colour.  Add it to some golden shadow (maybe the burnt almond in the NARS Rajasthan compact?) and you're set.
Finally, there's the Givenchy Yeux Quatuor in Midnight Look #72 ($62) whose punch of colour is definitely the most pigmented.  Their eyeshadow compact has everything – a peach for daytime, shimmery violet for glamour, a smoky grey for night, and a navy blue for accenting.  You really can't go wrong with this choice.
With choices like these, why would you pick another colour this season?