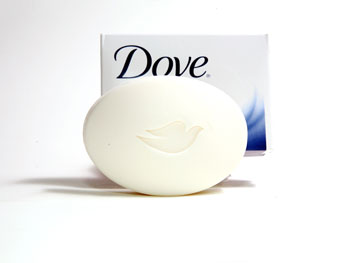 I still remember the days when the most luxurious beauty product I used was the Dove Bar.  It was nicer smelling than the rest of the soap we had (Ivory, for the most part) and it got rid of my dry skin when I used it on a regular basis.  Obviously, this was in the days when I knew little about the benefits of daily moisturizing and exfoliating.
Recently, I used the Dove soap bar again, and yes, it's still as great as I remember.  Now that the weather is warmer, and I don't need a daily moisturizer anymore, I'm using Dove soap on a regular basis and I love it.  The lather is rich and creamy and in general, I do find it easier than using a body wash, which is part of my daily ritual.
I use the bar soap on the days that I'm in the mood for a quick shower and don't want to be scrubbing away.  I get a nice luxurious shower but a quick one at that.
Best of all, the Dove bar is affordable and available everywhere.