This is a nail look I've done so many times that it's become my go-to.  I really love understated super long nails – as long as they're actually my real nails and I can grow them long enough to my liking.  The polish needs to be a safe pink that's not nude or neutral.  Dior Lady fits the bill.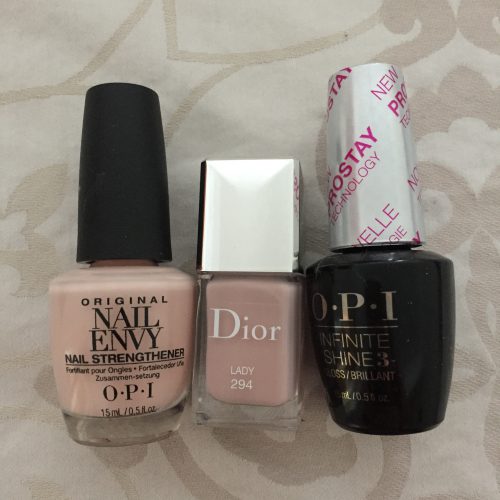 I've worn it in so many Instagram posts and it really fits any nail shape.  Long, short, square, or oval, this colour just looks polished and fresh.
I use a tinted Nail Envy base coat underneath.  I started using Nail Envy a couple of years ago, because I saw pictures posted of people with really long nails, and Nail Envy seems to have made the difference.  I do notice that my nails are less prone to peeling but I don't know whether that's Nail Envy or not.  What I like is that it actually makes a great base coat, so I keep coming back to it.
Finally, the piece de resistance is the top coat, because all this effort is only going to last as long as your top coat is the best, and in this case, it is.  I love the Infinite Shine 3 because it gets harder and harder with the UV rays of the sun, and so it's a fantastic top coat.  It's also super duper shiny.  I can't promise 10 day wear, but I can easily get through a 5 day week, and stretch it out to 7 days if I need to.
But sadly, after years, I'm out of Dior Lady and I'm out of my second bottle of the Infinite Shine 3 top coat, so it's time to say bye bye.