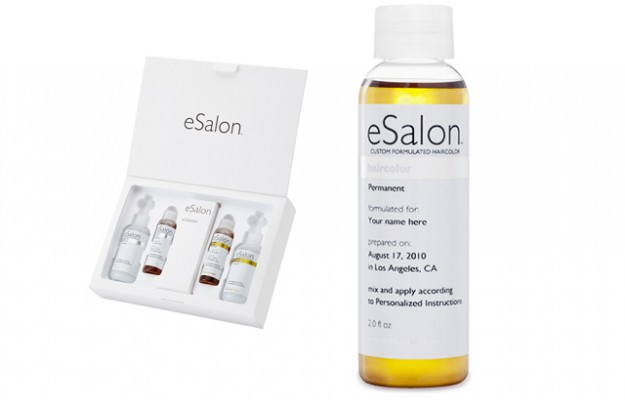 For better or for worse, I colour my hair at home.  It just takes less time than actually going to a salon, and I can do it whenever I want without worrying about booking an appointment first.  Most times, I just colour my roots, though I'll colour my whole head if I'm being adventurous and trying a different shade of dark brown.
I've tried almost every brand of hair colour out there, and my biggest problem with hair colour sold at the drugstore is that it always ends up being much darker than it says on the box.  I think that the reason for this is that it's not going to wear as well, and is going to fade a lot, so companies just make it darker so that after a few washes it actually looks like the colour you wanted.
Trying a new brand is always hit or miss, because you never know what colour your hair is actually going to end up being.
But now, there's e-Salon.com which is an online-based customized hair colouring system.  It basically takes the guess-work out of at-home colouring by setting you up with an actual hair dresser (located somewhere in the other side of your computer screen, of course) who will mix your actual colour for you.  All you have to do is answer a few questions about what colour you want your hair to be (darker, lighter, more red, less red, etc.), upload an image of yourself if you want, and then they mix the right colour AND the right kind of developer for you.  The whole kit gets shipped to you in a box, and you're good to go.
The best part: your information gets saved on file, so if you want to change the colour or aren't happy with it, you just go back to them, add your notes, and have them make you a new formula paired with the right developer so that you can actually get your hair to be the colour that you want.  The hair colour also comes with the usual must-haves including gloves and conditioner, but you also get a little packet of skin protecting cream, and a hair colour remover in case you get some of the dye on your skin.  Everything about the kit is far superior to what's available at the drugstore.
If that's not good enough, what takes the entire system to the next level is the accompanying kit of professional application accessories that you can get.  The kit includes a mixing bowl, clips, and a brush specially made to apply hair colour.  I found that I had a much better application experience by mixing my colour in the bowl, rather than in the bottle.  I then used the brush to apply the colour instead of squeezing it out of the bottle and then smoothing it down with my fingers which is usually much messier.
The application instructions were also much superior than those that come with drugstore hair colour.  I followed them to the T and was so happy with the way my colour looked at the end – I hadn't missed any spots, and everything was shiny and bright the way it is when you leave the salon.   The colour is also true to itself right from the beginning – it wasn't too light or too dark, and over the course of a month it hasn't faded in the least.
From now on, I'm definitely going to be getting my hair colour from eSalon.com, and if you colour your hair I highly recommend that you give them a try.