This spring is all about big hair – and not in the uncontrollable sense. This hair is bigger, but styled, refined, perfected. Think of that perfect blowout that you can pull back into a bouffant type style. Think of a bun that has something extra going on in it. Think of the appearance of more hair, and now you're on track.
So this past month, we've been testing out some brand new volumizing products, and these are out favourites. They all work – they make you look like you have a ton of hair.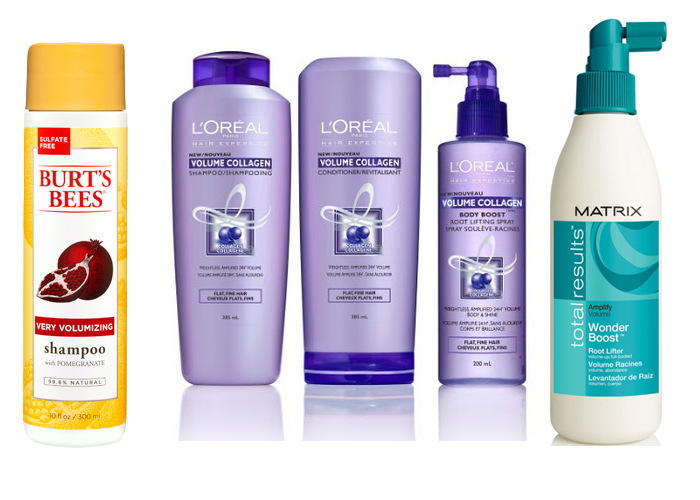 1. Burt's Bee's Very Volumizing Shampoo. This shampoo is awesome. It's clear, so you know it won't weigh down your hair. It's also sulfate, paraben, and phthalate free so it's not going to be drying, and smells like pomegranate – a scent that's super trendy now. Tart and sweet, it's easy to see why everyone loves it these days. The shampoo is also 97.2% natural and formulated with coconut oil as the base for the shampoo. Even if you're not into natural products, know that this is going to do a great job without any damage to your hair. Available at drugstores for $9.99.
2. L'Oreal Volume Collagen Shampoo and Conditioner. The term "volume collagen" is going to sound familiar because of L'Oreal's ultra-popular Volume Collagen mascara. Though the Burt's Bees shampoo is very good, those with fine and limp hair may find that they do need a bit of moisture, and that's where this line comes in handy. The shampoo is creamy and moisturizing, and the conditioner is hydrating but not heavy. All in all, it's a light duo, and the effects are heightened by the use of the accompanying root lifting spray. Check out the nozzle of the spray: this is the new big thing with beauty technology. It's made so that you can spritz this spray directly on the roots and not all over your hair. As you blow dry, it will hold volume in place, and really leave your blow-out buoyant. $5.99 to $6.99 at drugstores.
3. Matrix Total Results Wonder Boost Root Lifter. While we're on the topic of root sprays, this is our salon choice. The Root Lifter again has a nozzle that allows you to just reach your roots, and is kind of a dry hair spray that just sets your hair the way that you want it. I used it before blow-drying, but found that it was equally worth while to use if I was drying my hair naturally. It just really added air to my roots so that I had the body and volume that I wanted. What I really like about both products is that my hair is still touchable after using them, and that's something I really want in my hair products.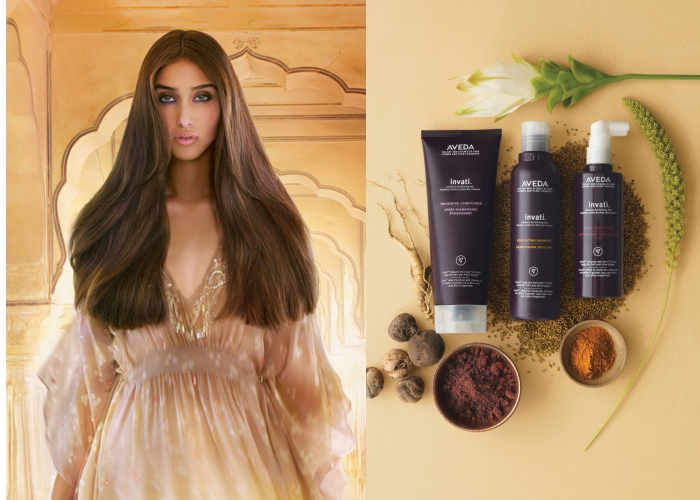 4. Aveda Invati. This is the line with perhaps the most hype and I have a lot to say about it. Every time I walk past an Aveda salon, I see the gorgeous model with atleast a few thousand dollars worth of hair extensions in the ad for this line. I kind of resent that kind of marketing because it is so blatantly untrue – even more so than the mascara commercials where the model is clearly wearing falsies. I feel that I have a better chance of having my lashes looking like falsies, but I could use Invati until the cows come home, and I'm just not going to have hair like that. Invati is formulated specifically for people with thinning hair – mine is just thin, so I thought I would test it out anyway. The line uses actual ayurvedic ingredients to create products that can stimulate the scalp. The line does NOT say that it will cause your hair to grow – however, they do claim that the products can help reduce breakage and create an ideal environment for healthy hair growth. I hated the shampoo and conditioner – they both left chalky residue in my hair that made it tangled and difficult to brush. My hair is curly and fine, and it was messy and difficult to care for after I used these products. The Scalp Revitalizer, however, is a winner. I don't have more hair after a couple of weeks of using this, but I do feel as if my scalp is healthier and my hair is shinier. I just appreciate the overall look of the hair closer to my roots after using this product. The entire line ranges from $25 (each, for the shampoo and conditioner) and $60 (the Scalp Revitalizer). Check it out (and even get free samples) at your local Aveda salon.