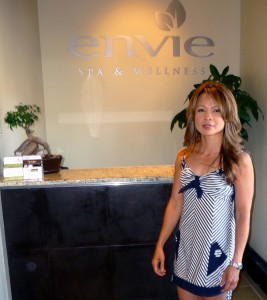 In the past, I never felt that it was worth my time and money to get regular facials. Estheticians never seemed to do anything special, because let's face it, these days exfoliating and moisturizing isn't exactly difficult with the vast array of products just waiting to be taken home from your local Sephora.
But then I heard about the Hydradermie Facial by Guinot.
Guinot is a high-end French skincare line. I was personally interested to learn that Guinot's potency was such that it has been used to treat the skin of severe burn victims, resulting in the firm establishment of Guinot as an industry leader.
The treatment starts off by assessing your skin type, in order to establish a more customized facial for each client. In my case, I was more dehydrated/dry (thanks, Calgary weather.)
The facial starts off with cleansing and exfoliation, followed by a gentle clean-up of any excess facial hair around the eyebrows and upper lip.
This is followed by the ionization process with the Hydradermie, Guinot's exclusive technique. This consists of mild electrotherapy, which is not as frightening as it sounds, I promise.
After applying a Guinot facial gel, Quong has you hold a rod containing a negative charge in one hand while she rolls two massaging rollers containing a positive charge over the skin. The sensation takes some getting used to, but this process helps to drain the toxins from your skin and allow the active ingredients from the products penetrate more deeply into the skin.
After the gel is rinsed off, there is an extraction process which is pleasantly quick and efficient. Extractions are never pleasant at the best of times, but the Hydradermie process makes the blackheads easier to remove, which is a win/win in my book.
The next step is oxygenation, which uses a high frequency pulse to oxygenate the skin, which serves to reenergize the cells and create an antibacterial effect.
Then, a mask that is customized based on your skin type is applied, and a facial massage is performed that helps to boost the skin, and has the added effect of being fantastically relaxing.
The end result is skin that is immediately glowy and healthier looking, even sans makeup.
My bare skin rarely sees the light of day, because I'm vain and superficial, but that night, sans makeup, I met up with some friends at the local coffee shop, and didn't feel a drop of insecurity.