I've put this amazing toner into a spray bottle and now I'm getting so much more use out of it.  I feel like I'm not wasting any that's left on a cotton pad, and I spray all the way out to my shoulders.  Just remember to keep your eyes closed!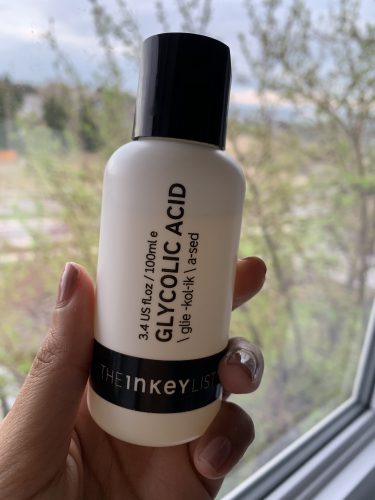 People keep asking me if I like the Inkey List, and the answer is YES!  It's an awesome brand: affordable, and basic ingredients that have science behind them proving that they work.  And they're easy to find.
I've added their Glycolic Acid to my skincare routine.  
My skin loves glycolic acid.  The increased exfoliation is gentle but so effective.  My skin gets visibly smoother when I add it to my skincare routine.  I actually miss it when I'm not using it because my skin just won't be as smooth.  It'll be a little bumpy, especially in pictures.
Instead of doing peels regularly, which is giving me a bit more dryness than I like, I'm adding the Inkey List Glycolic Acid toner to my regimen.  I let it absorb, and then follow up with a serum or just sunscreen. Sometimes I use it morning and night.  Sometimes just in the morning, depending on whether I'm using a retinol or another active at night time. Sometimes I follow up with a vitamin C.
Get it at Shoppers Drug Mart for $12.99.