Vitamin C is one of my favourite skincare ingredients because it's proven to brighten skin and really is an antioxidant which means that it protects skin from environmental aging.
Previously, a great Vitamin C serum or cream would cost tons of money and would probably be something that you could get at the doctor's office or at a medical spa.
Now, thanks to the Inkey List, you can find affordable high-quality ingredient-focussed skincare products at the drugstore.  This British brand is available at Shoppers Drug Mart here in Canada, and I've been slowly going through its product line trying to fill in what my skincare routine didn't already have, and it was missing a Vitamin C component.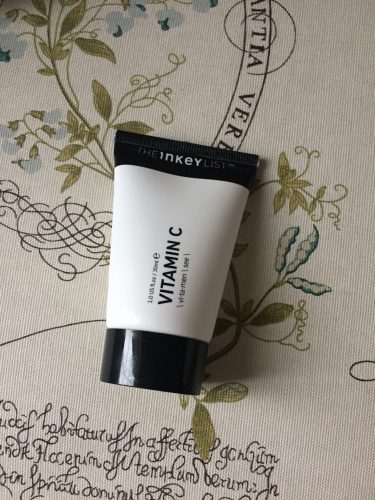 Now, the Inkey List's Vitamin C is a 30% concentration which is more concentrated than other high end serums you can get out there.  Even The Ordinary, which the Inkey List reminds me of, has a Vitamin C cream with just a 23% concentration. Most vitamin C products are a 5, 10, 15, or 20% concentration, which I've used in the past, and which have worked really well for me.  I like the idea of a high concentration of Vitamin C, but a 30% is so high that it seriously made my skin tingle and feel uncomfortable.  The tingling lasted for over 15 minutes, after which I was able to forget about the tingling so I guess it didn't bother me that much anymore.
The best way to introduce this Vitamin C serum into your skincare regimen is to mix it with another cream to dilute it a little.  That's what I did, and the results have been great.  The base of the cream is dimethicone so mix with a primer or something with some slip and you should be good.  You don't want to mix it with anything water-based because the water will help the vitamin C oxidize too fast making it lose its efficacy.
The Inkey List's Vitamin C is available at Shoppers Drug Mart. It's on sale right now for $9.99, and you can get it online.
You can also watch my original introduction to the Inkey List here.