I got asked about the Lancer line of products because they're now available at Shoppers Drug Mart.  Dr. Lancer is known for being a "celebrity" dermatologist, and there was a time when he was associated with being Kim Kardashian's derm.  I'm sure she has a team of people she consults, but his line came out after he became known as being a person that saw many celebrities.
As we know, this is not that unusual – Dr. Brandt and even Dr. Dennis Gross were also known as being derms to the stars and they came out with their own lines too.
Dr. Lancer's line got sent to me and a lot of the copy behind it is that it's an "anti-aging line".  Sorry, there are a lot of quotation marks being thrown around here.
What do I say about an anti-aging regimen that doesn't have any Vitamin C, acids, or retinol?  What this line does have is peptides.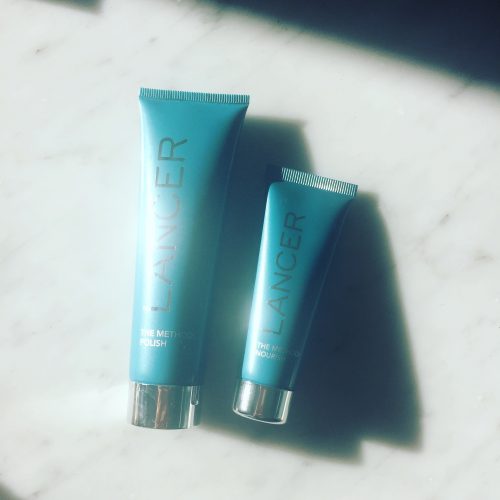 The Dr. Lancer line The kit includes a cleanser, a scrub, and a basic moisturizer, and eye gel.  The moisturizer has peptides in it which aid in stimulating collagen production in your skin and so can help minimize the look of wrinkles. 
Scrubs are abrasive and it was surprising to me that Dr. Lancer included them in his line.  Many dermatologists advise staying away from scrubs because of the microtears they can cause on your skin.  They feel satisfying to use, but that doesn't mean that they're good for you long term. The grains in the Dr. Lancer scrub are aluminum crystals which is what is used in microdermabrasion, but even that is something that the skincare community is moving away from.
The moisturizer and the eye cream are fine – they are on the basic side but they're not terrible.
The entire regimen can be found for $179.