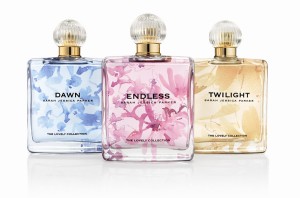 When I say Lovely, what springs to your mind should be Sarah Jessica Parker and her perfumes. They are always unique and instant classics which is what's made them hits season after season.
This spring, the collection expands with 3 new incarnations called together The Lovely Collection. There's Dawn, Endless, and Twilight and they all smell different from each other.
Dawn is for those of you who want something fresh, Endless is for the fruit lovers, and Twilight is for those who like floral fragrances.
Each scent has a deep musky, vanilla base so the scents have a deeper dry down than it seems at first smell. My favourite scent, and the one that I think you should check out, is the Twilight. It's light enough for day-wear because the florals are helped by a touch of citrus, but the scent is still amber and musk at its heart.
You can find the Lovely Collection on perfume counters now!