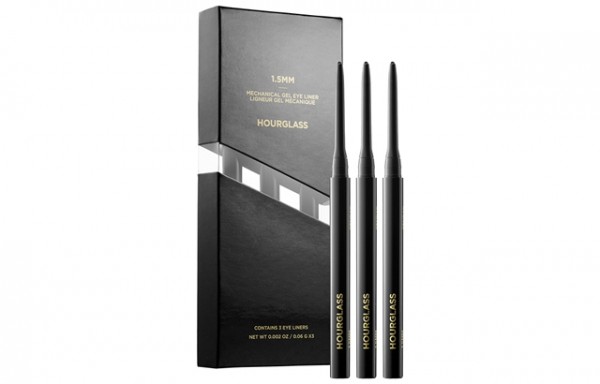 Yes, can you tell that I'm just a little bit obsessed?
When I got Hourglass's new 1.5 Mechanical Gel Eye Pencils, I was overjoyed: they mistakenly sent me a wholesale box of 3, instead of just 1!  Sweet!
No, friends, that was not actually the case.
In actually fact, these little pencils come in a set of three because that's the only real way to justify the price.
Speaking of which, lets start there: $52 for the three pack and that's the only way they are sold.  According to the package, each pencil will give you about 22 uses.  That means about three months of lining – less, actually.  Most of my eye pencils have lasted more than that even when I use them daily, but these are not the regular pencils – these are quite different.
I have never really been able to tight-line my eyelids – I just never spend the time to apply the liner that closely and that thin, but that is exactly what the Hourglass pencils are made for.  They're made super thin so that you can get really close to the lashes.  They are gel pencils so that they don't break while you're lining.
Long-lasting and non-smudging, I love how I can even draw a quick little flick, and I didn't have to get a brush dirty.
Seriously, so good.  Go try it yourself and you'll see.
Available at Sephora.