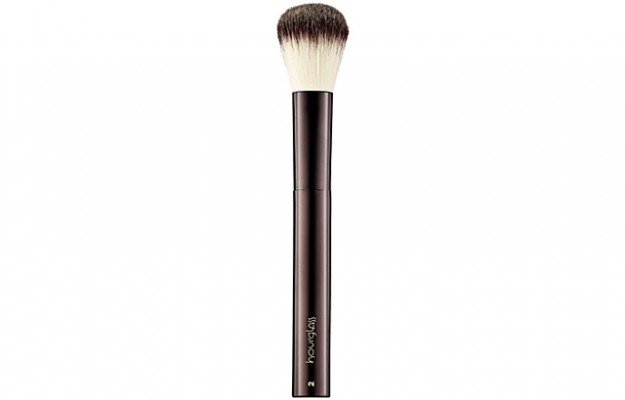 Friends, I have a thing for foundation brushes. In fact, there are about 5 or 6 different ones in my brush rotation right now. They're not all my favourites – in fact, there are some that I reach for first, and a few that I reach for only if all the other ones are dirty. But I have a bunch because I use them regularly to apply foundation and even if I'm not reaching for my favourite one, I much prefer to use one that's clean rather than one that's a little gunky from too much foundation.
So here's the one that's just gone straight to the top of my list.
It's the Hourglass Cosmetics Brush #2 suitable for foundation or cream blush. Make of Taklon fibres instead of real hair (as all foundation brushes should be), this brush is a departure from what you would expect. The brush is fluffy but not so much so that it's difficult to apply foundation in hard to reach areas such as under the eye and close to the nose. The aluminum handle is wide enough to give you good grip, and the rounded head of the fibres lets you buff foundation in instead of painting it on. The difference means that you get a flawless, natural-looking finish rather than one that's overly done or chalky. It also means that there's no streaking and no excess foundation that can absorb and pick up powder.
What really impressed me and took this brush to the next level is the fact that it worked so well at applying long-wear foundation which gets pretty gunky on a regular brush. I used it to apply Dior's new Nude Fluid Foundation and was impressed by the way that it just melted into my skin with the brush.
For the record, brushes I'm using include one by Quo (so-so… run of the mill foundation brush), the Giorgio Armani Blender Brush (this used to be a favourite but it applies a pretty heavy layer of foundation), and Sephora Brand's Professional Air Brush #55 (awesome, probably my second favourite).
Hourglass Cosmetics is available exclusively at Sephora. This brush retails for $67 – pricy for just one brush but totally worth it.