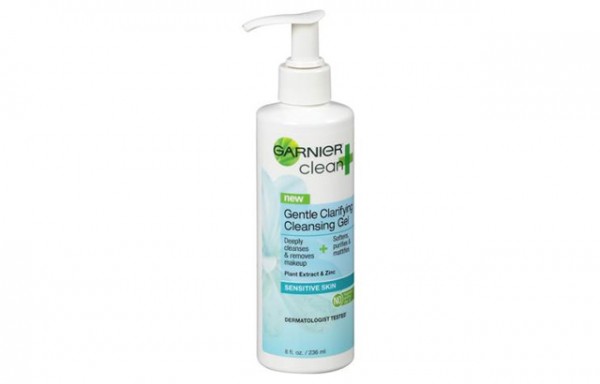 Ok, so Garnier just added a Sensitive line of cleansers to its existing Clean+ cleansing lineup, and while I don't usually use cleansers for sensitive skin, I was drawn to the Clean+ Gentle Clarifying Cleansing Gel.  I love a foaming cleanser, and one that's meant to be gentle sounded good.
Turns out that this completely affordable drugstore cleanser rivals some of the most expensive ones I've tried, and yes, it totally reminds me of the Fresh Soy Face Cleanser that I always rave about.
What I love about the Fresh Soy cleanser is that it's slippery in feel and washes off clean.  The Garnier Cleansing Gel is just as slippery in feel, it also washes clean, but it foams a little when you add water to it, so it dissolves makeup much better than the Fresh cleanser.  It comes in a huge 235 mL bottle so you can use it to your heart's content without really breaking the bank.  This cleanser is free of alcohol, fragrance, dye, and oil.
The line also includes cleansing milk and wipes, but if you're trying to take makeup off, then this is all you'll need.
Pick it up at drugstores now for about $12.