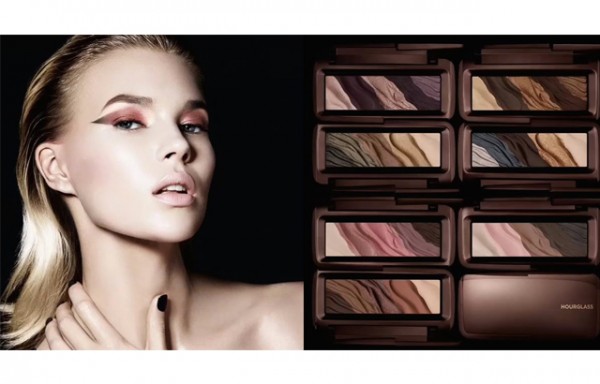 If you haven't heard of Hourglass Cosmetics, you've been missing out. It's maybe the most high-end niche, cult-favourite cosmetic line available at Sephora and it's amazing.
When Hourglass releases something, it's going to be a cut above what's already out there, and the Modernist palette is no exception. The conception is thoroughly modern: a set of four eyeshadows that don't have a divider among them, allowing you to freely mix and blend colours to customize them for yourself.
I got one in Infinity which is described as Warm Neutrals. This palette has warm ivory, dusty rose, bronzed mauve, cool taupe, dark cocoa.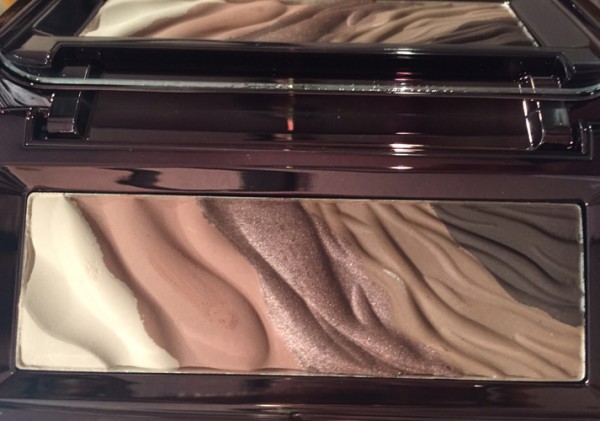 What's interesting about Infinity and some of the other Modernist palettes is that they have a focus on matte shades and only contain one or two shimmery shades. Infinity's only shimmer is the bronzed mauve that's right in the middle of the palette. The ivory on one end makes for a lovely natural highlight, but one that's without any shimmer. The dark cocoa works well to subtly define eyes but I also use it to fill in my brows. The dusty rose and cool taupe on their side of the mauve are great for contouring in the crease, and I even add a touch of the taupe to my bronzer to contour my face. It works like a charm, blending into my makeup effortlessly.
What really blows me away about this palette is how amazingly pigmented it is – these are the most pigmented shadows I've ever used. So much so that there's a learning curve when it comes to using them, and I really have to make sure that I'm careful when I'm picking up pigment on my eyeshadow brush. It does mean that sometimes I can get away with using these shadows without an eyeshadow primer which I've never been able to do.
At $67 this palette is a splurge especially if it's by a brand that you may not be familiar with, so if you're going to get it, I suggest you invest in a palette you can get a lot of use out of. Try to make sure that it has a highlight and contour colour you can use regularly, and it's a nice touch to have a super dark colour to use on your brows. Infinity has turned into a kind of staple for me – I might not use all of it, but I seem to use atleast one colour every day.
Available at Sephora stores now – 7 palettes in total.