Powder foundations have come a long way.  Forget about being cakey and obviously powdery, today's powder foundations are light-weight and actually leave the skin glowing instead of totally matte.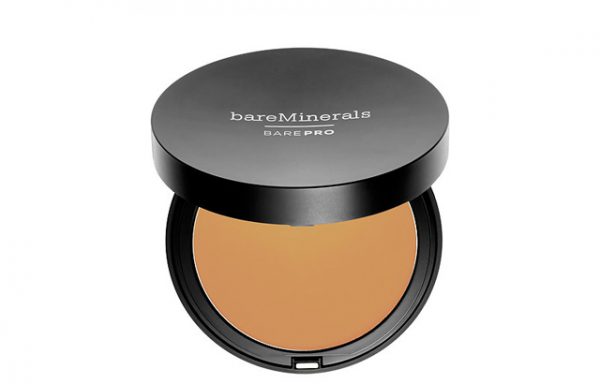 Bare Escentuals, the brand that really made its name with a powder mineral foundation, now has a new compact powder foundation, BarePro Performance Wear Powder Foundation.  The foundation comes in a luxe clickable mirrored compact with a sponge inside.  I rarely use a sponge to apply powder foundation but it does come in handy when you're on the go and just need to tap on some product to control excess shine.  I use my favourite kabuki brush or even a big fluffy brush to apply foundation on my skin after moisturizing.  The effect is sheer but buildable and obvious spots and discolouration is smoothed away.  
The finish of the foundation is matte, but not dull. It's best for oily skins or very moisturized skin because that's going to keep this foundation on.  People who have dry skin will notice that dry patches become obvious, but that would happen with almost any foundation.  The foundation wears very well throughout the day and just looks so natural on.  It doesn't absorb oil, but it lasts through oily skin and I think that's saying something.  Take it with you to do touchups on the go and you'll find that your makeup might just look as good as it did when the day started.  
This is one of the best powder foundations out there – and the colour range means that there's something for almost every skin tone, with good options for very light and very dark skin tones. 
Pick it up at Sephora stores. 
$36.