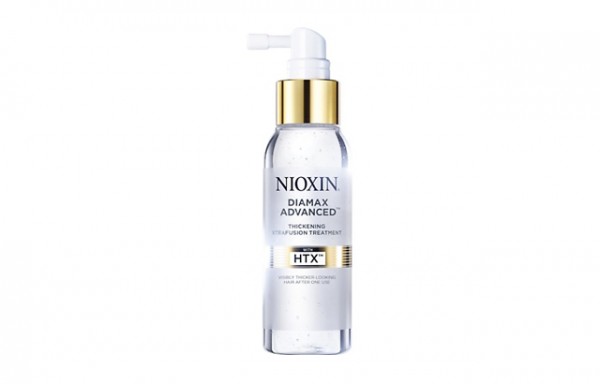 If you have thinning hair, then you need to invest in the Nioxin line to help retain what you have and prevent new growth from falling out.  I like using the Nioxin shampoo but the leave-in products are really what do the work, and there's a line of styling products in the system as well.
Now, there's Diamax Advanced which is the latest leave-in from the brand.  It has 25% more of the key ingredients that make the Nioxin system work.
This spray seems thicker than the other Nioxin Leave-In treatments that I've tried, but once sprayed into your hair, it's just as light and easy to work with as the other ones were.  You simply spray this on to your roots, and then massage it into your scalp.  Not only do the ingredients work to help you keep your hair, but the spray will also make your hair look thicker and fuller than it may have previously.
The root spray is not like a hair spray or a traditional thickening spray (or texturizer).  It is light like a leave-in conditioner, protecting the hair and making it stronger. Because it's so light, you can use it on wet or dry hair, although my favourite way is to use it when my hair is wet and clean so that I know I'm not going to have any product build-up.
Pick it up at salons and beauty supply stores for $59.99.