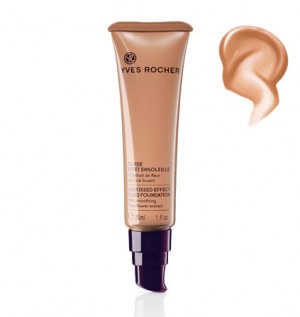 Summer is a time when we want to lighter on the makeup and a time when you may have to go a little warmer with the foundation.  Yves Rocher has the best solution by far for summer makeup.  Their Sunkissed Effect fluid Foundation is mainly transparent with a tiny amount of shimmer.  It will warm up your skin tone if you wear it alone, or you can mix it with your regular foundation to make it a little more golden.
The foundation comes in Light Veil and Dark Veil, and if you are medium skin-toned, you will want the dark veil.
This is currently on sale at Yves Rocher's website for $13.95 instead of $26!