I wrote about my The Ordinary Haul, and the first product that I opened right away was the 1% Retinol in Squalene. Squalene is a plant-based oil that's often found in skincare. It's light and feels comfortable on the skin.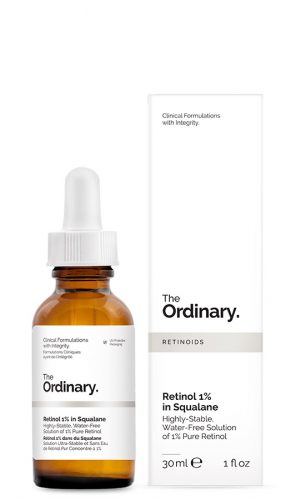 I've used retinol before and I know that it can make your skin feel a little dry and tight because of the intense amount of exfoliation that's going on. I can feel it after I wash my skin and I know thatbefore I put on a retinol, I can use a very basic moisturizer to put back in what my skin might have lost in the cleansing process, but with the Retinol in Squalene, I actually don't have to do that. The squalene immediately makes my skin feel so comfortable and the retinol goes to work speeding up the exfoliation of my skin.
Did I get the flakes when I was using this serum.
Of course I did.
It's potent, and I hadn't been using a retinol regularly before I was using this. I had used the A313 for a bit but I had stopped for a week or so. I much prefer the texture and feel of this retinol and because it makes my skin feel so comfortable when i put it on, I know that I'm going to keep on using it. I also didn't have any itchiness when I used it, and I think that's a really good sign. It means that my skin wasn't that sensitive to the feeling of retinol and that also made me want to keep using it, hopefully giving me better results.
You can get this retinol online and if you're new to the retinol game, I recommend that you get one at a lower percentage so that your skin can get used to it. Once that's done, then you can work your way up to a higher percentage of retinol.
The Ordinary Retinol serum is remarkably affordable. This serum is less than $10.