This Retinoid Serum costs just $9.80.
If you've always been interested in top-of-the-line skincare, but wary of the price point, then you need to check out The Ordinary skincare company.  They have key ingredients formulated at a strength that's really going to make a difference in your skin, and all without the crazy price tag that comes with marketing.  This is the future of skincare.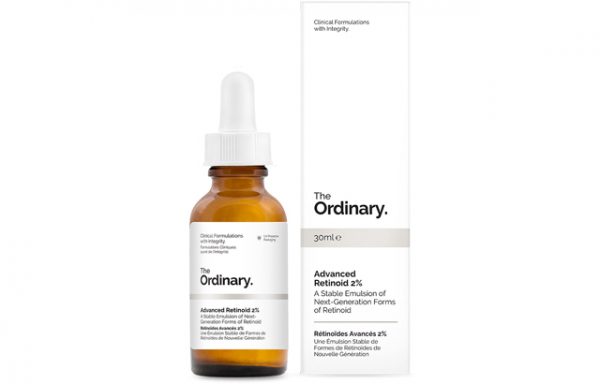 For example, I've been using their Advanced Retinoid 2% serum – and it costs just $9.80.
No, it doesn't have 2% retinol in it, that would be crazy strong, but it does have a new form of stabilized retinoate that's more gentle on your skin but still makes it brighter and clearer.  You won't have the crazy peeling that a regular retinol product would give you, but you will have skin that's a little bit dryer because of the increased cell turnover, and that's what's going to make your skin more clear and better-looking.  It'll take care of acne, oiliness, and large pores, and all without you even breaking the bank. 
The Ordinary Company is the skincare company you haven't heard of.  They don't spend a lot of money on their marketing or fancy packaging.  What they invest in is their formulas, and they don't mark up the price because they don't need to.  It turns out that you can still make a profit if you're selling a good product!
I use this in the evening on its own without any moisturizer.  In the case that my skin is feeling dry, then I apply moisturizer on its own followed by a face oil to really lock everything in.  I find that using the Retinoid every other evening really works for me, and I use a moisturizing sunscreen in the morning so make sure that I don't get any more freckles and sunspots. 
If you want really good skincare, then check out The Ordinary Company – they even have a Regimen Guide on their website so that you can figure out which products are good for you. 
The Ordinary products are available online only.  They are quite affordable and if you're trying to figure out what kind of ingredient works for your skin, they're great.