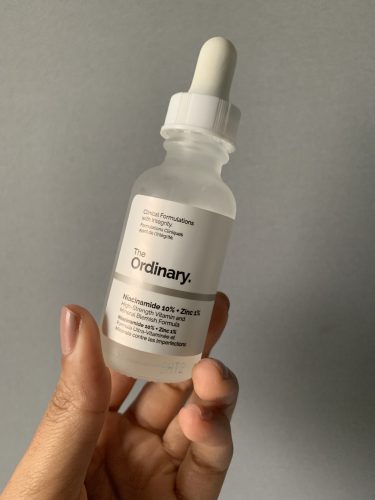 This is one of my favourite acne treatments and it's made my skin look so good, but I can't believe I haven't written about it.  Take a look at the bottle: it's almost done, and that's because I use this almost daily.
Niacinamide is the acne treatment I wish I had discovered a long time ago.  It reduces oil production so it helps make your skin more matte and less prone to clogged pores.  You break out less, and it also helps lighten acne scarring, so if you have acne-prone skin or you've suffered from breakouts, it's basically indispensable.  Oh yeah, and it does all that without the crazy side effects of making your skin super dry or flaky.
The Zinc in the formula helps absorb excess oil, and makes your skin look nice and matte.  The formula is entirely clear.  It's amazing.
The reviews I read of this said that it pills under makeup or moisturizer, but I haven't found that to be the case.  In the months that I've been using this, I've gone through a bunch of sunscreens and moisturizers with this and none of them pilled.
I use the Niacinamide in the day time – I like that it makes my skin more matte so that's a daytime benefit for sure.  Nights are for retinols and glycolic acid.
Pick it up at The Ordinary for $5.90.