I just finished reading The Perfect Scent by Chandler Burr, and oh my goodness, it is the best book! I learned so much about the perfume industry.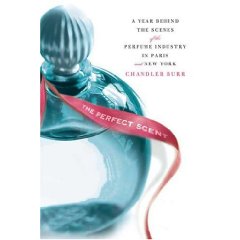 Chandler Burr is the scent critic for the New York Time's Style Magazine, T, and the book does include some of his columns weaved into the storyline, but really it's a chance for Burr to share everything he's learned about the perfume industry in the time that he's been writing the column.
He goes backstage to the making of Sarah Jessica Parker's scent, Lovely, and shows us how involved she was in the project from start to finish, and he also takes us to Hermes where they've just hired an in-house perfumer to make their scents and keep the Hermes stamp present in each and every one.
Burr is a fantastic story-teller and a great writer. You learn so much without drowning in all the chemical and fragrance names.
The book has given me a new appreciation for perfumes and I am going to get my hands on his other books.